Every thing about MUTTON STEW | Vahrehvah, mutton stew recipe, mutton stew recipes :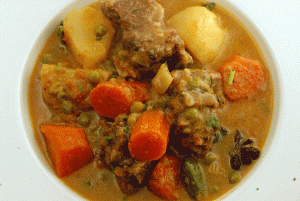 Mutton stew
is a very old fashioned good way of cooking that retains the nutrients of the meat and vegetables to keep the dish healthy and delicious. It's a
hearty wholesome balanced food
that
warms
the
body
and soul and happened to be a poor man's dish when he could not afford to have the course meal. But today it has broken the bounds and has become one of the delicacies at every banquet main course meal.
Mutton
stew
cooked in a traditional fashion, combining the juicy cubes of
lamb
or
mutton
tossed in seasoned flour and browned blended with array of veggies like the potatoes, leeks, carrots and celery in one big hearty pot to make a
marvelous
main dish that smells heavenly and extremely luscious in taste which is loved by everyone.
Stews
have been prepared since prehistoric times where in history, Herodotus says the
Scythians
(
8th
to
4th BC
) "put the flesh into an animal's paunch, mix water with it, and boil it like that over the bone fire. The bones burn very well, and the paunch easily contains all the
meat
once it has been stripped off. In this way an ox, or any other
sacrificial
beast
, is ingeniously made to boil itself." which is considered the way how boiling was first done by primitive man.
There is archaeological evidence of these practices going back 8,000 years or more. A combination of solid food like any meat or vegetables (such as carrots, beans, potatoes, tomatoes, peppers etc) blended with spices typically cooked at a low simmering temperature allows the flavors to mingle well within themselves is known as Stew.
Generally in this process of
cooking
, tougher meat is used as they are being cooked in a slow flame for long hours to release and take the flavors of all the other ingredients to give a soft, tender and juicy taste. The pungent aromas and intriguing flavors released from the mutton stew is lip smacking.
The
mutton stew
has a thicker sauce or gravy due to the slow simmer cooking method, the flour coated to the meat and potatoes. Stews are similar to soups but there may not be a clear distinction between the two in some case. Stews are much thicker than the soups.
Mutton
stew or curry is a very common
mutton
dish and as meat is tougher, it is ideal for slow cooking as this helps in making the meat tender and blends with the spices in bringing out the flavors.
Mutton
may also be roasted, although the roasting needs to be performed at a low temperature to keep the meat tender as it cooks. Many Indian dishes feature mutton, because beef is not eaten in most of India.
Mutton
pairs particularly well with the heavy spices used in a great deal of
Indian cuisine,
and it can be roosted in tandoori ovens, slowly simmered in curries, or even fried in some dishes.
Lamb
is extremely tender and often tastes better, however; many people have expressed distaste for lamb as they have experienced the lamb being overcooked which tends to be bland, dry, and chewy.
Indian Mutton stew
is very common dish prepared in every
non veg house
and also has its own recipe. It uses basic Indian ingredients and is easy to put together.
For preparing the mutton stew, its best to use the neck pieces as they are juicy and fleshier too. To the meat pieces sprinkle some flour and mix nicely. Heat the oil in a heavy bottom pan and then lightly sear or brown the Lamb in batches, and remove into a pressure cooker and cook the meat till it gets about 70% tender.
Drop in the Bay Leaves, Star anise, Cinnamon Stick, Cardamom Pods, Peppercorns and Cloves into the pan and stir, then add the Onion and fry until lightly browned for about 5 minutes. Add the Garlic and Ginger Paste, poppy seeds and coconut paste and stir and fry for few seconds.
Add finely chopped tomatoes, yoghurt, coconut milk, vinegar, little jaggery, green chillies and vegetables and mix thoroughly add water and salt. Cover and cook it for few minutes. Stir once in between well. Add green peas and mix and complete simmer to a slow flame and cover and cook for another 45 mins until the lamb is tender and the sauce is reduced to nice thick gravy.
Lastly add coriander leaves and switch off the flame. Mutton stew is best served with bread pav or maida paratha. It can also be eaten with rice. I am sure this luscious dish has tempted you to surely watch the making hence go ahead and do watch the video at:
By using good quality cubes of meat and ground spices you can retain the essence of the delicate flavors of the meat, spices and the coconut milk to keep it soft and succulent.
Recipe of
Ingredient Name
Unit
Quantity
Black pepper

---

number

---

5

---

carrots/turnips

---

number

---

1

---

chopped onion

---

number

---

1

---

chopped tomato

---

number

---

1

---

coconut milk

---

cup

---

1/2

---

curd

---

cup

---

1/2

---

flour

---

tsp

---

1

---

Ginger garlic paste

---

tbsp

---

1

---

gr chilli

---

number

---

2

---

jaggery

---

tbsp

---

1

---

Jeera

---

tsp

---

leeks and celery(optional)

---

tsp

---

1

---

Mutton

---

grams

---

500

---

oil

---

tbsp

---

2

---

peas

---

tsp

---

1

---

poppy seeds paste

---

tsp

---

1

---

potatoes

---

number

---

2

---

Salt

---

to taste

---

---

vinegar

---

tbsp

---

1

---

whole garam masala

---

number

---

4

---
In a bowl take mutton add flour and mix.
Take a pan add oil and mutton into let it cook till golden brown colour.
Once it is done take pressure cooker with little water into it and add the grilled mutton into it and cook till mutton is tender.
Take a pan add oil,bayleaf,masalas,onion,ginger garlic paste,poppy seeds paste,coconut powder and mix well let it cook for 2min now add tomatos chopped finely and mix well.
Now add curd,coconut mik,vinegar,if you want add jaggery,green chillies and add all vegetables,water close with a lid and cook for 5-10 min.
Now remove the lid once vegetables are cooked add cooked mutton into it and cook for 5min by closing with a lid in a very slow flame.
lastly add coriander leaves and switch off the flame.