Every thing about LAMB FRY | Vahrehvah :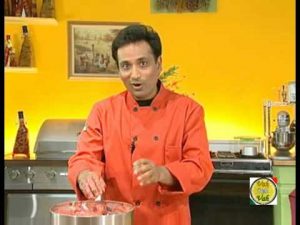 The
lamb fry
is one of the best classic dishes from the
Indian
style of
mutton recipes
.
Traditionally a lip smacking mutton recipe with a delectable flavors of fresh peppercorns, garlic and cumin seeds embedded in the masalas and
mutton
pieces.It is a dry dish and goes well with
chapatti
,
roti
,
naan
or even best with
hot rice
and
rasam
.
Pepper
being the main ingredient in the
lamb fry
is known as the king of spices because of its numerous medicinal properties and flavor. Pepper is undeniably the most popular of all the spices and originated in the Malabar coasts of West
India
.
Pepper
is the most priced crop and a valuable wonderful spice in the "God's own country "
Kerala
. Some interesting facts about this spice is that once upon a time, long long ago, like gold, Pepper was considered to be a luxury product, equivalent to money and was stored under lock and key and was used as a currency exchange, valuable enough to pay debts and taxes.
Few anecdotes states that the famous explorer/ traveler
Vasco
da
Gama
on one of his trips back from
Kerala (India)
had asked the king whether he could take a pepper stalk with him for replanting in his country and the king who was well known for his sarcasm responded him calmly "You may take our pepper, but I don't think you'll be able to take our rains", referring to Kerala's tropical climate and the heavy monsoons, which are mandatory for the growth of
pepper
plants.
The
lamb fry
is an ideal side dish preferably paired with a mild flavored dish in order to appreciate wholly the distinct flavors of the
meat
and pepper in this dish. It's a zesty mix of peppercorns, garlic, lemon and spices that gives a zing to this magnificent dish.
To prepare this amazing
lamb fry,
in a heavy bottomed pan add and heat little oil. Add whole
garam masala
(cardamom, cloves, cinnamon), cumin seeds and when they splutter add findly chopped onions. Saute the onions till they are translucent and then add turmeric powder,
ginger garlic paste
and medium sized chunks of
mutton
or lamb.
Mix all the ingredients thoroughly and add water till all the pieces are soaked in the water well and cook till the
meat
is tender. In this recipe the meat needs to be really cooked well. Fry well till all the moisture is dried. In a ding chik take fresh pepper corns, garlic, cumin seeds and grind them to a coarse paste.
In a pan add little butter, add the ground masala in this and sauté it for few seconds and add slit green chillies and curry leaves, add chilli powder, coriander poder and cumin poder, add the lamb pieces with masala to this and mix well. While preparing this dish use a wide mouth pan so that the moisture is evaporated fast.
Finally add chopped
coriander leaves
and saute well till the whole moisture is evaporated. Add little lime juice and mix well. The
lamb fry
is ready to eat. To make this dish a little spicy you can also add little more peppercorns as per your taste.
Remember that pepper loses flavor and aroma through evaporation so airtight storage helps preserve pepper's original spiciness longer. Once ground, pepper's aromatics can evaporate quickly therefore it is recommended to just grind whole peppercorn immediately before use.
Make sure your spices are fresh which gives maximum flavor to the succulent juicy chunks of
meat.
Pepper corns has enormous medicinal properties and is antispasmodic,
anti-toxic,
carminative, digestive, diuretic, laxative, stimulant and many more.This
lamb fry
is one of the classic and amazing dishes that go very well with alcohol that makes your palate and taste buds crave for spicy and tangy flavors.
Do watch making of this fantastic dish at:
Lamb Fry
Author :
Published On : Oct 23, 2007
Recipe Type : NonVeg-Main
Standing Time : 5-8 mins
Ingredient : Lamb
Description : Lamb Fry Recipe made easy, learn how to make Lamb Fry Recipes at home.
Recipe of
Ingredient Name
Unit
Quantity
butter

---

tbsp

---

1

---

chopped coriander

---

bunch

---

1

---

coriander powder

---

tsp

---

1

---

cumin powder

---

tsp

---

1

---

cumin seeds

---

pinch

---

1

---

curry leaves

---

leaf

---

10

---

garlic

---

piece

---

4

---

ginger garlic paste

---

tbsp

---

1

---

lamb

---

lbs

---

1

---

oil

---

tbsp

---

1

---

onions

---

large

---

1

---

peppercorns

---

piece

---

8

---

red chillie powder

---

tsp

---

1

---

salt

---

pinch

---

1

---

sliced chillies

---

number

---

3

---

turmeric powder

---

pinch

---

1

---
In a heavy bottom pan add some oil and when oil is hot add garam masala.when its spluters add cumin seeds add chop onions for this preparation.we wont have to brown the onions and add turmeric and ginger garlic paste and once the ginger garlic paste is cooked.
add nicely clean cubes of lamb or mutton and add little water to it and cook till meat is tender.make sure your lamb is fully cooked as we are not going to cook this lamb in a gravy or anything. take some garlic and little bit of cumin seeds and peppecorns after that grind it.
next melt the butter and mix in the grind powders,after 5 seconds add green chili and curry leaves .add red chili powder 1/2tsp,cumin powder 1/2 tsp,and coriander powder 1/2 tsp.after adding these to with the lamb.for that we use the bigger pan for evaporate the moisture.add the chopped coriander to garnish and add little lime juice to it.