Every thing about JANGRI | Vahrehvah :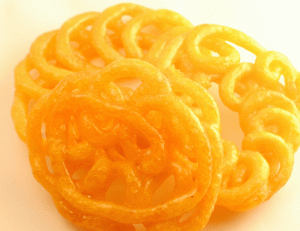 Jangri
is one of the famous
Indian sweets
that looks very similar to the Jelabi. They are infact like cousins as they appear similar but definitely taste different as Jangri is made from urad dal and jelabi is made from all purpose flour (maida).
Jangri
or
Jhangri
is also known as Imarti or Emarti in the northern India. This Indian sweet is popularly known as Jangri in the
southern India
.
In south India, this
sweet
is served after meals especially during weddings, special occasions and festivals. Jangri is usually prepared during
Diwali festival
or
Raksha bandhan
in
south India
and
north India
respectively. Jangri is a very delicious sweet but normally people do not make it home as they assume that it is very difficult to prepare and involves rich
ingredients
, but I guess little practice and one will surely master the art of making this delicious sweet.
Our passion and innovations in making and trying different dishes will give you the thrill of enjoying a wonderful homemade flavor and freshness in making of sweets.
Jangri
or
Imarti
is an amazing
Indian
sweet
made by deep frying urad flour batter in a kind of pretzel or circular shape then soaked in sugar syrup. In
North India,
it is often consumed with curd (dahi) for breakfast.
Jangri looks very attractive as it is of a nice orange color, crispy and juicy. This traditional
sweet
can be eaten and enjoyed by all ages. Not advisable for diabetic patient's because it's soaked in sugar syrup. To prepare this delicious
Indian sweet
at home firstly you have to make the sugar syrup for which you need to take 2 cups sugar and 1 cup water. Heat the sugar and water and bring it to boil, adding any essence if preferred. The syrup needs to 1-string consistency.
Wash and soak the
urad dal
for at least one hour. Drain the water and grind it in food processor or blender to a very fine paste till it gets to a consistency of glue sticking. Shift the batter into a mixing bowl and if required add a little rice flour to remove the aeration / air bubbles. Add little saffron color and mix the batter thoroughly to make soft dough.
Take a Zip lock bag and make a hole and pour all the batter into the bag or else you can also pour the batter in a specialised cloth and pipe it through to produce the shape of Jangri. Take a big ball of the batter in a thick cloth or Zip lock bag with a small hole (Mouth of the hole should be stitched along the edges as in a button hole). Hold the cloth bundle in the hand and press the cloth bundle so that the batter comes out.
Make a circular motion of your hand while pressing the bundle so that the batter drops into the
ghee
in pan on fire. After making one round (circle), keep on making small rounds along the sides of the center so that you get small coils around the center. After completing small coils make one big circle on top of the
Jangri
and stop pressing. Prepare 4-5 Jangiris in hot ghee and allow frying in low fire till they turn golden and crisp. Remove them from ghee and drop them into hot syrup for about 2 to 3 mins.
Remove the Jangris after they absorb the syrup and serve hot. Remember adding a little lime in the sugar syrup, help in preventing the formation of crystals and the temperature of the oil should be medium to prevent the
Jangris
from breaking apart.
Prepare the Jangris in batches so that they do not stick to one another. Usually in big restaurants and hotels the Jangri is prepared by the Master because of his expertise in making traditional sweets with perfection. Though Jilebi and Jangri look similar but differ slightly in the method of preparation, flavour, and texture. Well the Jangri is quite easy to make with some experience and yet a very delicious Indian sweet.
Do watch the making at:
Jangri
Author :
Published On : Jan 23, 2008
Recipe Type : Desserts/Sweets
Standing Time : 5-8 mins
Ingredient : Dall
Recipe of
Ingredient Name
Unit
Quantity
rice flour

---

tbsp

---

1

---

safron color

---

pinch

---

1

---

shortening ,ghee

---

to fry

---

1

---

sugar

---

cup

---

3

---

urad dal (split black gram)

---

cup

---

1

---
Wash and soak the dal for atleast 1 hr Drain the water and grind to a veryfine paste till the consistency of glue sticking add safron color and rice flour if needed add to zip lock bad and pipe it into slightly hot oil put them into sugar syrup as shown for not more than few min serve hot