Every thing about Healthy Kofta Curry | Vahrehvah :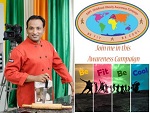 Healthy Kofta Curry is an excellent and luscious curry dish made with a mix of grated paneer and spices made into small roundels, steam cooked and dropped into an exceptionally mild spicy yellow gravy curry dish. This dish is very similar to the malai kofta curry but has no fat or malai added in the curry yet tastes absolutely yum.
The healthy Kofta curry is fat free, no cholesterol yet is very delicious to eat. It taste good served with Naan, roti or pulao. This curry is easy to prepare and is made with grated paneer added with little salt, garam masala powder, spiced with finely chopped green chillies, little corn starch and mix well to made a dough.
This is then made into small dumpling or koftas. The koftas are steamed in a rice cooker for 10 minutes and keep aside. Take a non-stick pan, add few cumin seeds and sauté until you get a nice aroma. Do not add any oil in the pan. Add chopped green chillies, turmeric powder and boiled onion paste and mix well.
While this is cooking add ginger garlic paste, chilli powder, coriander powder, salt to taste, tomato puree, mix all ingredients well and cook for about 5 minutes. Drop the soft, shiny steamed koftas in the gravy and cook for about 2 to 4 minutes. Garnish with finely chopped coriander leaves. Serve hot with pulao, roti or naan. To make any dish healthy, you just need to be a little more creative and try innovative ideas so that the dish is nutritious and luscious to eat.
Paneer or cottage cheese Paneer or cottage cheese is an un-aged, acid set, non melting farmer cheese made by curdling heated milk with lemon juice or other food acid. It is one of the most common South Asian cheese. The texture of paneer looks very similar to that of Greek feta which is also strained and squeezed the same way.
Like most other cheeses, the making of paneer does not involve rennet as the coagulation agent. This is completely a lacto-vegetarian product. It is purely indigenous to the vegetarians and a source of protein. Paneer is light, easy to digest and is high on calcium. Basically most varieties of paneer are pressed into cube and then sliced or chopped.
Paneer is extensively used in the Indian cuisine especially in northern India. It is a versatile dairy product used for preparing desserts, snacks or in main course dishes. Including paneer in your daily meal will not only get you addictive to the punch of flavours but will also benefit you with providing the required nutrients to the body.
Paneer is soft, moist, bland, and creamy, but when cooked with spices it becomes completely flavourful bursting out with wonderful zest and keeps your taste buds lingering with its juices craving to eat more. Paneer Bhurji is extremely a tasty and colourful version of Anda Burji. It is a wonderful breakfast dish that can be teamed up with hot chapattis, toast or phulkas.
This can also be used to eat with naan or as a filling for pita or can be used to make a wrap in tortilla. You can also add exotic and nutritious veggies like peas, carrots that enhance the dish's taste and its nutritional value. Apart from rendering its unique flavours into the dish, paneer offers good nutritional benefits.
It is good source of calcium which helps build strong bones and teeth. It also prevents osteoporosis. Homemade cheese (paneer) provides about 25% of the calcium in the food supply. Paneer is also a good source of protein and it reduces cancer risk. It can also prevent stomach disorders and help with your bones as you get older, especially among women.
Popular Paneer recipes There are an array of paneer dishes that are truly irresistible to satiate your hunger pangs, do try some of the explicit, aromatic dishes that would please your entire family and folks. Some of the popular recipes are Chilli Paneer, Kadai Paneer, Shahi Paneer, Paneer paratha, Popcorn paneer with homemade cheese, Paneer Egg rolls and many more.
You could always reach me at my website for more amazing nutritious and healthy recipes at: www.vahrehvah.com You could also follow this campaign to gain knowledge on some special features and advices from eminent doctors from AAPI (American Association of Physicians of Indian Origin) and also get to know of healthy recipes and diets from popular Chefs that you and your family can relish and enjoy staying fit and strong.
To follow, do click on: https://www.facebook.com/AAPIChildhoodObesity
Enjoy healthy eating and Be Fit. Be Cool!