Every thing about GOAN SHRIMP CURRY, goan shrimp curry recipe, shrimp curry indian recipe :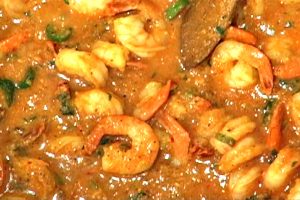 Goan Shrimp curry
, one of the wonderful mind blowing delicacies influenced from the
Portugal
cuisine
. Goa, India's west coast line, best known for its beaches fringed with rustling palms and the
Goan cuisine
is the highlight of this popular region. Seafood, coconut milk, rice and chillies are main ingredients of
Goan
delicacies
which are often spicy with intense flavors.
Goan prawn curry
is a popular dish you will find served up in most of the home stays and restaurants.Guests often ask for the recipe so they can enjoy the tastes of their holiday when they return home. As this dish is influenced by the
Protugal
cuisine
is rich in the tradition of food and is famed for its many unique foods.
Prawn
or the fish curry with plain rice is the staple diet for most of the
Goans
which is generally eaten during lunch.
Goa
is a mix of east and west, which is not only represented in their culture but also in their
cooking style
. The traditional way of cooking is still very alive today as even today the locals can be seen cooking in clay pots on firewood, this food preparation is preferred as it adds an additional
smoky
flavor to the any goan dish.
The degree of heat
varies
amongst goan recipes from mild to positively explosive.
Goans
have a miscellaneous platter ranging from
prawns
to sausages, chicken to beef, and numerous vegetarian dishes. Goa's broad sweep of unique cooking approach is the consequence of historical events such as the invasion of the Portuguese.
Goan
cuisine
is influenced by the religions of
Christianity
and
Hinduism
. Over time the cooking methods have been blended together and allowed to simmer producing an authentic selection of delicacies. The cuisine of
Goa
is influenced by its
Hindu
origins
, four hundred years of
Portuguese
colonialism
, and modern techniques.
Goan
are very particular about enjoying their cuisine, for them the food should not just taste good, rather, it should also smell good and look good. In other words, the food has to satisfy more than just satisfying the taste buds.
Seafood
of all types is of course, plentiful and fresh in
Goa
.In fact, you will find sea food in one form or the other. Some of the popular sea foods which you can taste here are
Prawns
, Apart from its fine aroma, the variable influences from different continents on its cuisine, make Goa a food-lovers delight in every season.
So
April
is the time to make prawns while the sun shines.
Goans
are such a cheerful lot that they are blessed with freshwater
prawns
and fish throughout the year. The
prawns
are cleaned, kept in a container next to the cooker and a handful was added to whatever dish was being prepared.
To prepare the
Goan Shrimp curry,
firstly heat oil in a heavy pan. Add whole garam masala, add chopped onions ,salt and cook till they are golden brown add turmeric,
ginger
garlic
paste
and the ground mixture ground mixture-red chilli and cumin soaked in vinegar and warm water(little) chopped tomatoes, grated coconut, mustard and few shrimps.
Blend to make a fine paste add coriander powder, pepper powder and cook till oil oozes out add water to the consistency of the gravy you need and add shrimp and cook for 7-10 min add pinch of sugar add green chillies and check seasoning finish off with coriander leaves enjoy with a bowl of rice.
Indian food delivers such huge flavor. If you haven't made this, then I shall suggest you give your palate a thrill! It's soul food, one that fills you up warm in the belly and in your heart. Try it!
Do watch and enjoy the making of the Goan Shrimp curry at:
Goan Shrimp curry
Author : Admin
Preparation Time: 25min
Cooking Time : 25 min
Yield : 4 (4 servings)
Published On : Oct 30, 2007
Recipe Type : NonVeg-Main
Standing Time : 5-8 mins
Ingredient : Shrimp
Description : shrimp cooked in goan style in tangy spicy sauce
Recipe of
Ingredient Name
Unit
Quantity
Chopped Tomatoes

---

number

---

2

---

coriander leaves

---

bunch

---

1

---

Coriander powder

---

tbsp

---

1

---

garamasala powder

---

tsp

---

1/2

---

ginger garlic paste

---

tbsp

---

1

---

grated coconuts

---

cup

---

1

---

green chilli

---

number

---

3

---

mustard seeds

---

---

pinch

---

oil

---

tbsp

---

1

---

onion

---

---

1

---

pepper powder

---

---

as per taste

---

red chilli and cumin seeds soked

---

number

---

2

---

salt

---

---

as per taste

---

shrimp

---

grams

---

500

---

sugar

---

---

pinch

---

turmeric powder

---

---

pinch

---

whole garamasala dry

---

number

---

2

---
heat oil in a heavy pan add garam masala whole ,add chopped onions ,salt and cook till they are golden brown add turmeric, ginger garlic paste and the ground mixture ground mixture-red chilli and cumin soaked in vinegar and warm water(little) chopped tomatoes,grated coconut,mustard shrimp and make fine paste add coriander pdr , pepper pdr and cook till oil ozzes out add water to the consistency of the gravy you need and add shrimp and cook for 7-10 min add pinch of sugar add gr chillies and check seasoning finish off with coriander leaves enjoy with a bowl of rice