Every thing about BHUNA GOSHT | Vahrehvah :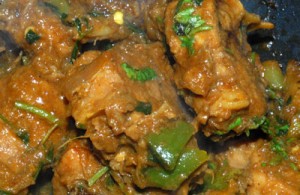 Bhuna Gosht
is a traditional Indian recipe of a delicious classic
lamb curry
made with lamb, spices, fresh fenugreek leaves (methi leaves) and
bell peppe
r.
Bhuna Gosht means pan fried lamb curry. What makes this curry special is the bhuna part as this consists of pan frying the
meat
with spices without adding water.
The meat cooks in its own
juices
which give the deep flavors. Cooking takes a little extra time but its worth it as the end result is a luscious rich dish. Bhuna in
Asian cooking style
is pan frying where the sauce or the gravy is reduced and reduced until the gravy becomes thick and get nicely coated to the meat making the meat appear brown in color.
Dishes that are cooked in the
Bhuna
style are rich and pungent, the flavor of the spices mix gets concentrated down by the fierce reduction of the gravy.
Bhuna gosht
reminds of the
traditional Hyderabadi cuisine
which is famous for preparing various meat delicacies that involve slow cooking for longer time to give richness to the dish. The cooking of
Bhuna gosht
as such is a process similar to braising where the meat is slowly cooked and simmered for long hours blended nicely with spices.
The slow cooking gives a nice deep brown color and a complex flavor with a rich texture to the dish. It's an elegant dish and needs luxurious time to prepare to bring out the charm of food with the richly aromatic sauce. There are various ways of preparing the Bhuna gosht and any kind of meat can be used and cooked in the exact way.Bhuna gosht can also be cooked in a pressure cooker but best is the pan where you will get the best result and mouth watering taste.
To prepare the
Bhuna gosht
, firstly heat a pan or
kadai
and add oil, whole garam masala (cardamom, clove, cinnamon), bay leaf, finely sliced onions, salt and fry until they turn golden brown. Add ginger garlic paste, turmeric, green chilies and mix well. Add the
mutton
pieces and mix well, add red chilli powder, coriander powder and a little water and cook the mutton till the mutton gets 70% cooked. (You can also do all this process in a pressure cooker and cook the mutton till it gets half cooked and then transfer to a pan or kadai).
Add fresh
methi
leaves and bell peppers (both optional) and cook till all the water gets evaporated and keep mixing till the gravy become completely dry. Lastly add garam masala powder and chopped coriander leaves and mix.
Bhuna gosht
can be rather dry or thick velvety gravy paste. Do try the Bhuna gosht recipe and enjoy the succulent flavors of the meat chunks blended thoroughly with thick spicy gravy overpowered by
Indian spices
.
Watch the making at
Bhuna
in
Hindi
or
Urdu means 'brown',
is a cooking method by which a masala of spices are browned in a
kadai
or karahi pan before the dish's other ingredients are added to receive the same treatment. Instead of thin gravy, the cooking gravy is heavily reduced down to coat the meat, ultimately creating quite a dry dish, ideal for eating with flat breads like
naan
,
chapattis
or
rotis
.
Bhuna gosht is a popular dish available in most of the restaurants in Hyderabad, North India, Pakistan and Bangladesh. Normally while cooking the Bhuna gosht at the restaurants, to save time they fry large quantities of onions browned nicely. This saves a huge time to use the caramelized onions whenever require.
Bhuna Ghost
Author :
Recipe of
Ingredient Name
Unit
Quantity
bayleaf

---

0

---

---

bell pepper

---

number

---

1

---

chopped coriadner

---

bunch

---

1

---

coriander powder

---

tbsp

---

1

---

garamasala powder

---

0

---

as needed

---

ginger garlic paste

---

tsp

---

1

---

green chillies

---

number

---

3

---

methi leaves

---

bunch

---

3

---

mutton

---

0

---

500

---

Oil

---

tbsp

---

1

---

onion sliced

---

cup

---

1

---

red chilli powder

---

tbsp

---

1

---

salt

---

0

---

to taste

---

turmuric

---

0

---

pinch

---

water

---

0

---

as needed

---
Take a pressure cooker add oil, garamasala dry,bayleaf, sliced onions,salt cook till onions are golden brown colour then add ginger garlic paste, turmuric, green chillies mix well. Now add mutton mix well add, red chilli powder, coriander powder, water mix well and cook till mutton is half cooked. now remove the pressure cooker lid and transfer the cooked mutton to a pan add methi leave, bell pepper and cook till all the water is dryied out keep mixing till it is dry. Lastly add garamasala powder and chopped coriander leaves.