Every thing about BHEL PURI | Vahrehvah :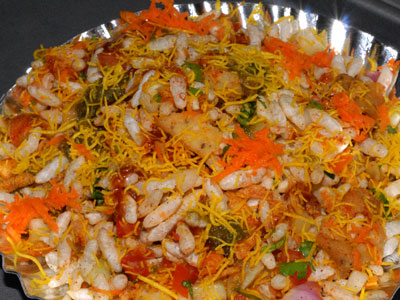 Bhelpuri
is a very popular dish made of puffed rice, potatoes and a variety of spicy sauces. The
Bhelpuri
can be prepared as you like with many variations in it.
Bhelpuri
is a famous
Indian
Chaat
particularly available near the beaches of
Mumbai
. People love to eat
Bhelpuri
near the beaches facing the waves gushing towards them.
It's a real thrilling experience of enjoying your Bhel.
Bhelpuri
is also famous at
Bangalore
and commonly called as
Churu muri
whereas in
Kolkata
is known as
Jhaal
Muri
. Bhelpuri is widely available at the street side vendors. Bhelpuri is a tangy savory snack and is to be eaten immediately it is prepared. The
Bhelpuri
should be crunchy. If not eaten immediately than they become soft because of the sauces mixed in them.
To prepare the
Bhelpuri
is very simple and fast. In a bowl add crispy puffed rice (commonly known as
murmura
in
Hindi
),
poha
and
peanut
mix
,
crushed
sev
(a fried snack shaped like thin noodles made of besan flour) and
papdis
(a deep fried small round and crispy wheat bread), small
chopped boiled potatoes
, finely
chopped onions
,
chopped cucumber pieces, chopped tomatoes
, little green chillies if you want it
spicier, grated carrots
(is optional, normally added to enhance the color) and finely
chopped coriander leaves.
Summary: chat item with bhel puffed rice
Ingredients:
boondhi - 2 - tbsp
carrot grated - 1 - tbsp
Chaat masala - pinch - pinch
coriander - 1 - tbsp
cucumber chopped - 1 - tbsp
fresh tomato - 2 - number
green chutney - 0 - as needed
onion - 1 - number
Papadi - 0 - as needed
Poha chudva - to taste - as needed
potato - 1 - tbsp
puffed rice (pori or borugulu) - 250 - grams
red chilli powder - pinch - Pinch
sev - 2 - tbsp
sweet tamarind chutney - 0 - as needed
Instructions:
Take a bowl add puffed rice add all other ingerdients execpt Sweet tamarind chutney and Green chutney
Mix well now add sweet chutney, green chutney mix well serve in a plate.
Top it of with se,sweet chutney,green chutney, coriander leaves if needed onions.
Cooking time (duration): 25
Diet type: Vegetarian
Number of servings (yield): 3
Meal type: snack
My rating: 5 stars: ★★★★★ 1 review(s)
Recipe by
Vahchef
.
To this add sweet tamarind chutney, green chutney and mix well. Toss the bowl well so that the sauces blend with other ingredients nicely. If you like to eat it spicier than you can also add little chilli powder, chaat masala. Mix well, top with green chutney, sweet sauce, coriander leaves and serve. The different chutneys actually impart the sweet and spicy flavors to the Bhelpuri.
It's an evergreen Chaat liked by one and all. Its yummy, tasty, nutritious and a good source of carbohydrates and minerals. It's a low fat dish and can also be eaten as a good salad. Do eat it and serve to your family and kids as most of the vegetables like the tomatoes, onions and cucumber are eaten raw and good for health.
Watch the making of Bhelpuri at: