Every thing about Sabudana Vada | Vahrehvah :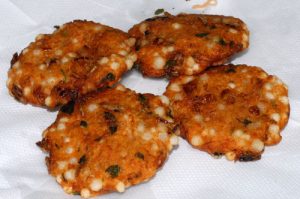 Sabudana Vada
is a traditional snack from Maharashtra.
Sabudana
is the main ingredient for this dish and is widely used in the Northern western parts of India.
Sabudana
is sago and many types of dishes are prepared with
Sabudana
like the
Sabudana Kicchidi,
Sabudana Kheer
etc.
These dishes are normally made during the
Navaratri festival
and are considered the ideal food to eat during the
religious festivals fast/ vrat/ upvaas
especially the
Navaratri vrats (fasting). Sabudana vada
is fried dumplings made of
sago
,
rice flour
and
spices
and served with spicy
green chutney.
South Indian rarely prepare the
Sabudana
vada
.
They use sago for making
pappadams
and
vadiyalu
(dry sago pappads).
Sabudana vada
are crispy and crunchy, melts in your mouth. They are absolutely delicious and can be treated as a wonderful snack.
Sabudana vada
goes well with hot
Spiced tea (masala chai).
This is snack is quiet filling to stomach and nutritious too.
Sabudana
is full of starch and carbohydrates and is great for a quick boost of energy, hence often served in India for breaking
fasts
during
religious
festivals. It gives you quick energy and is easy to digest. Normally during the monsoon season, it is popular to eat
bhajjis
/
pakoras
(fried snack) with a cup of adrak chai (ginger tea). One such monsoon special crispy fried preparation is
sabudana vada.
Despite it is deep fried, is sumptuous and light snack. In
North Indian
version of preparing the
Sabudana
vada
they use potatoes and peanuts but in
South Indian
they include the
buttermilk
or
yoghurt
as a binding agent. There is no special occasion associated with this dish as it's enjoyed at all times- as a snack or a
quick appetizer.
Its mostly enjoyed during the evening tea time especially during
rainy
and
winter seasons.
Preparing the
Sabudana vada
is simple and quick. Soak the
sabudana
in water for 3 hours. Grate raw potatoes in a bowl, add green chillies,
coriander leaves, curry leaves, red chilli powder, chopped onions, rice flour
and
chaat masala
and mix well. Now mix till it forms to a dough and then make small dumplings like vadas. Heat oil in a pan and deep fry the dumplings till it turns golden brown color.
Serve the
sabudana vadas
plain or with ketchup, and a hot cup of tea or coffee. Here are few tips to prepare your crispy and prefect
Sabudana vada
.
Do not add water to mix as it contains moistures and adding extra water will make it thin and will be difficult to fry. You can shallow fry instead of deep frying. If you are shallow frying, instead of mixing flour, use the flour to coat the
vada's
(like breadcrumbs).
You can even soak sago overnight. Make sure to keep the heat on medium flame. If it's too hot the outer side would get crispy quickly without cooking the inside and too less heat will make the fritters oily. Fry the sabudana vadas in batches but make sure not to crowd the fryer as it will bring down the temperature of the oil making them oily. If you adopt the correct frying techniques, you should find that not a lot of oil must have drained on the paper towel and the fritters themselves are not oily.
Serve these hot as it is or with any condiment of your choice. You can serve them with
tomato sauce
/ ketchup, coconut
/
mint chutney. Sabudana vada
is one of the widely cherished delicacies. Sago looks like many other starches, and are produced commercially in the form of "pearls".
Sago
pearls
are similar in appearance to tapioca pearls, and the two may be used interchangeably in some dishes. This similarity causes some confusion in the names of dishes made with the pearls.
Sago
starch is either baked (resulting in a product analogous to bread, pancake, or biscuit) or mixed with boiling water to form a paste.
Sago
can be made into steamed puddings such as
sago
plum pudding, ground into a powder and used as a thickener for other dishes, or used as dense flour. Many traditional peoples rely on
sago
as their main food staple, and because those supplies of
sago
are not unlimited, in some areas commercial or industrial harvesting of wild stands of sago can conflict with the food needs of local communities.
In
Ayurvedic medicine,
it is believed that
sago
porridge can be an effective and simple food to "cool and balance one's body heat" when taking strong medicine or antibiotics. The
health benefits
of
sabudana (sago)
are mainly in the carbohydrates it provides. In India,
sago
is used in puddings (payasam), in gruel or soup, and upma dishes. In gruel form, it's a good alternative to carbonated drinks as it gives energy without the added chemicals and artificial sweeteners.
Summary: a simple vada made with sago -sabudana and raw potatoes
Ingredients:
chat masala - 1- tsp
coriander - 1 - bunch
curry leaves - 2 - springs
green chilli - 4 - number
onions - 1 - number
potato - 1 - number
red chilli powder - 1/2 - tsp
rice flour - 2- tbsp
sabudana - 1- cup
Instructions:
Soak sabudana in water for 3 hrs.Grate raw potato in a bowl, then add green chillis, coriander leaves,curry leaves,red chill powder,onions chopped finely, rice flour, then add chat masala mix well.Now mix till it becomes dough then make a small dumplings like vada.Now take oil to fry deep fry in avery slow flame till golden brown colour.
Cooking time (duration): 25
Diet type: Vegetarian
Number of servings (yield): 4
Meal type: breakfast
My rating: 5 stars: ★★★★★ 1 review(s)
Sabudana is extremely low in fat but also low in protein. As its just starch, other than the carbohydrates, nutrition-wise, sabudana does not contain any minerals or vitamins and has very low amounts of calcium, iron, and fiber. However, you can make up for this by using other ingredients with it, such as milk for making sabudana kheer/payasam/gruel or vegetables and peanuts for making sabudana khichdi.