Every thing about North Indian cuisine | Vahrehvah :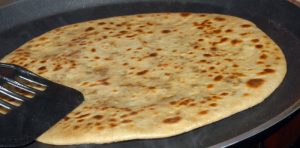 North Indian cuisine has some typical features that are interesting. There are popular things like Buknu, Gujhiya, chaat. daal ki kachauri. jalebi. Imarti. several types of pickles (known as achar), murabba, sharbat. Pana. Aam papad, Poha-Jalebi (from Indore) .
There are several popular sweets (mithai) like mallai ki gillori, khurchan (from Mathura), petha (from Agra), rewdi (from Lucknow), gajak (from Meerut), milk cake (from Alwar), falooda, khaja (from Aligarh), Ras Malai. Gulab Jamun, Laddu, Barfi, Halwa, Gul Q and. Balusahi.
A typical North Indian jneai would consist of chapatis,parantha or poons (unleavened flat breads), pilafs, dais, curries that are mild and made in ghee, thick, creamy dais, vegetables seasoned with yogurt or pomegranate powder, lots of greens like spinach and mustard greens cooked with paneer.
north Indian pickles, fresh tomato, mint, cilantro chutneys and yogurt raitas. Hot, sweet cardamom milk is very common before going to bed. North Indian desserts and sweets are made of miik, paneer, lentil flour and wheat flour combined with dried nuts and garnished with a thin sheet of pure silver.
Nimbu Pani (lemon drink), Lassi (iced buttermilk) are popular drinks of the North. tandoori cooking is a north Indian specialty and famous the world over. tandoori chicken, naan, tandoori roti, tandoori kebabs are a hit in most Indian restaurants. Northern Indian cuisine has the following main schools of cooking: Kashmiri.
Punjabi. Rajasthani, Marwari, Gharwal and Pahari, UP, Awadh or Luchnawi. Kashmiri - Kashmiri cuisine evolved in the valley several centuries ago and in course of time absorbed some of the delectable elements of the Mughal art of cooking and thus enriched, acquired a personality of its own.
A distinctive feature of Kashmiri food is the generous use of yoghurt in their gravies; the flavours of asafetida. aniseed, and dry ginger for pungency and saffron for the pulaos. Kashmiri food can be both a simple meal or a 36- course Wazawan where the nost commonly served items are rista (meat balls), tabak maz (flat pieces of meat cut from the ribs) rogan josh that takes on the colour of the Kashmiri chilies, Yakhni (a yoghurt based preparation with a delicate flavour) and the classic Gushtaba (pounded meat balls cooked in a yoghurt gravy).
For the vegetarians there are aloo dum, chaman or fried paneer and haq saag. The meal concludes with kahva or green tea. The piece de resistance is the wazwan, the traditional 24-course banquet with many cooking ways and varieties of meat - some in curry, some dry, some pounded in various sizes.
These are carefully cooked overnight by the master chef. Vasta Waza, and his retinue of wazas. Guests share the meal out of "a large metal plate called the trami: The meal begins with a ritual washing of hands at a basin called the tash-t-nari, which'is taken1 around by attendants: Seefch kababs of 4 varieties - methi korma.
Tabak maaz, safed murg and zafrani murg, and the first few courses. Seven dishes are a must for these occasions— Rista, Rogan Josh, Tabak Maaz, Daniwal Korma, Aab Gosht, Marchwangan Korma and Gushtaba. Punjabi - Sarson ka saag. originating from Punjab.
This dish of mustard greens simmered and slow cooked over coals along with rajma, kali ma or lentils and served in dhabas or roadside stalls which many say has the best food in Northern India. The dishes are served with unleavened bread of cornmeal or wheat and a dollop of butter or with steamed basmati rice. -Rajasthani - Gram flour or Besan is a major ingredient here and is used to make some of the delicacies like Khata. Gatte Ki Sabzi and Pakodi. Powdered lentils are used for Mangodi and Papad.
Bajra and corn are used all over the state for preparations of Rabdi, Khichdi and Rotis. Sweets include Laddoos. Malpuas. Jalebies. Rasogullgs, Mishri Mawa. Mawa Katchori. Sohan Halwa. Mawa and many more Banaras. India's holiest city is in UP. It is famous for it's bazaars full of jalebis", sweetmeats and a myriad variety of 'kachoris'.
Awadh style of cooking is world famous for its tender meat dishes and excellent sweets. The Nawabs of Awadh (now Lucknow) were great gourmets and encouraged their master chefs to . create new styles of cooking Thus the bawarchis of Awadh transformed the traditional dastarkhwan embroidered or white tablecloth laid on carpets or a low table) with elaborate dishes like kababs, kormas. kaliya. nahari-kulchas. zarda, sheQrma!. roomali rotis and warqi parathas.
Dum (a process in which meat is cooked over a slow fire) popular all over the Islamic world became synonymous with Lucknawi kitchen. The richness of Awadhi cuisine lies not only in the variety of cuisine but also the ingredients used. Punjabi cuisine (from the Punjab region of Northern India and Eastern Pakistan).
Punjabi cuisine can be non-vegetarian or completely vegetarian. The level of spices can vary from minimal to very prevalent. One of the main features of Punjabi cuisine is its diverse range of dishes. Home cooked and restaurant Pun,abi cuisine can vary significantly, with restaurant style using large amounts of clarified butter, known locally as desi ghee, with liberal amounts of butter and cream while home cooked food concentrates mainly upon wheat masalas (spice) flavourings.
Though wheat varieties form their staple food, Punjabis do cook rice on special occasions. During winter a delicacy, Rao Ki Kheer, if cooked using rice. Rice is cooked for a long time in sugar cane juice. Hallmarks of Punjabi food: Pulse, bean and / or lentil preparations: Dal makhani (ma di dal) Dal maharani Dal amritsari Lobiya (black eyed bean) Rajmah( Red kidney bean) Punjabi pindi chholey(Whole Bengal gram) Punj ratani dal( mixtures of 5 lentils) etc. .
These are then combined with a tangy masala base which could include tomato or dried mango (aam choor powder) or even pomegranate seeds (anar dana). The character typical to the bean or whole lentil preparation is that the shape is retained intact, but the gentlest pressure would make it into a paste.