Every thing about Tamil Nadu Cuisine | Vahrehvah :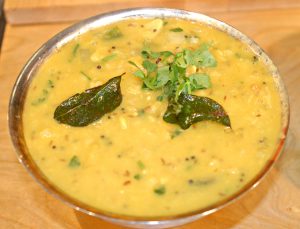 The state of Tamil Nadu has a distinct place in the culinary map of the country It has a wide range of vegetarian and non-vegetarian delicacies to offer. In Tamil cuisine, red chilies. turmeric, tamarind and a whiff of asafetida are important ingredients.
Coconut or gingelly oil is normally used as a medium of cooking, Besides the popular tiffin items like dosa. idli, uppuma.vada, sambar; other mouth watering dishes include the varieties of kozhambu (stews) and rasam, the various ways of cooking rice, koothu, poriyal, avial; and desserts such as payassam and mysore pak.
Chettinad cuisine is particularly famous throughout the country.Chettinad cuisine hails from the deep southern region of Tamil Nadu. Chettinad cuisine is a far cry from the bland cuisine of traditional Tamilian Brahmins - it is one of the spiciest, oiliest and most aromatic in India. Some of the popular dishes in Chettinad menu are varuval - a dry dish fried with onions and spices (chicken, fish or vegetables sauteed).
Pepper chicken, poriyal - a curry, and kuzambu which has the ingredients stewed in a gravy of coconut milk and spices In the same range, one can include the numerous pickles, powders, specially roasted and ground spices, dry snacks, papads. appalam and vada.
Numerous shops now sell pre-packed snacks like murukkus, small spirals of fried rice dough, chips and other snacks like thattai. masala vada and so on. The Tamil variation of Mughlai food can be savored in the biryani and paya The latter is a kind of spiced trorter broth and is eaten with either parathas or appam.
Tamil Nadu is famous for its filter coffee as most Tamils have a subtle contempt for instant coffee. The making of filter coffee is almost a ritual, for the coffee beans have to be roasted and ground. Then the powder is put into a filter set and boiling hot water is added to prepare the decoction and allowed to set for about 15 minutes.
The decoction is then added to milk with sugar to taste. The final drink is poured individually from one container to another in rapid succession to make the ideal frothy cup of filter coffee.