Every thing about Oats, A Healthy Food! | Vahrehvah :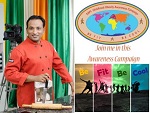 Nowadays starting your first meal with a bowl of oats mixed with low fat milk has become a common trend among most dieters and weight conscious people. Oats is a species of cereal grain grown for its seeds and is suitable for human consumption as oatmeal or rolled oats. Oats have a varied uses in foods commonly used for making porridge, upma, oats cookies, oatcakes, oats paratha etc.
Oats are also used in many cold cereals in particular muesli and granola. Rolled, crushed into oatmeal or ground into fine oat flour are the most common ways of using oats. They are often considered as the healthiest foods, low-fat and recently discovered as having healthy cholesterol lowering properties. Now over a past few decades, oats have become a very popular healthy food and are used as a regular breakfast cereal.
Oats are loaded with dietary fiber than other grains. Oats provide you with a number of benefits whether cooked or creamy or blended with fresh fruits added in a smoothie. This makes a very nutritious and healthy breakfast food and a brilliant way to add in that extra fiber and nutrients to your body to keep your body going fit and strong.
Oats added in milk and eaten will add up those amazing nutrients that are high in fiber, calcium and proteins and is also the right and best food to start your day. To add in some extra flavors and taste along with health benefits, you can also add in mouth-watering, luscious fruits like strawberries, bananas or blueberries to make it extra power packed food.
Types of Oatmeal: There are a variety of oats available in the market. Oatmeal is a ground porridge made from oats while rolled oats are de-hulled, steamed and then partially cooked. They are later flattened between two rollers.
Instant oats are produced the same way as rolled oats but are steamed for a longer period of time so that they get cooked completely before drying. Instant oats often are added with sweeteners or varied flavors. But as a general rule, it is said that the less processed the oats are the more fiber they contain and the more health benefits can be gained on eating.
Health benefits of Oats: Oats are generally ignored by many as they are pale, small and some do not like that lumpy mush of oats in the creamy milk to eat. But before you see the appearance, you should known about its nutritional values and benefits and enjoy eating more of these fantastic wholesome whole grains.
Whole grain oats are high in soluble dietary fiber, beta-glucan and known to lower cholesterol. They are also rich in antioxidants. Oats boost an impressive nutritional profile like it helps in reducing cholesterol, is diabetic friendly, supports healthy digestion, controls in managing your weight and last but not the least, oats fill you up.
When you eat oats, the body will digest and absorb them slowly keeping you feeling full thus controlling your appetite and delay hunger pangs. Studies have shown that people having high blood cholesterol levels, eating at least 3 gms of soluble fiber per day can help in reducing their total cholesterol by 8% to 23% (Tip- one cup of oats yields 4 gms).
Nutritional profile of oats: It is said that one cup of oats contain 16.5 gms of fiber. Oats contain manganese, fiber, selenium, magnesium, phosphorus, and zinc. It is also rich in carotenoids, vitamin E, and flavonoids. If you have not tried eating oats, then this is the best time to start eating and enjoy different flavours and its health benefits.
Combine with a variety of vegetable to make a scrumptious upma or khichdi, or add in some fruits or nuts or spice it with little cinnamon and nutmeg which will give great flavours to your oats. Limit sugars and eat the natural way flavoring with fruits and spices. It is a very beneficial food and do try eating in different way to eat it every day.
You could always reach me at my website for more amazing nutritious and healthy recipes at: www.vahrehvah.com
You could also follow this campaign to gain knowledge on some special features and advices from eminent doctors from AAPI (American Association of Physicians of Indian Origin) and also get to know of healthy recipes and diets from popular Chefs that you and your family can relish and enjoy staying fit and strong.
To follow, do click on: https://www.facebook.com/AAPIChildhoodObesity
Enjoy healthy eating and Be Fit. Be Cool!