Every thing about CUSTOMS & PRACTICES | Vahrehvah :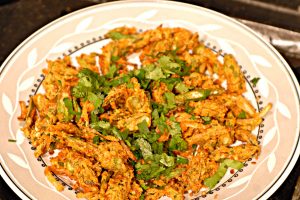 Indian cuisine is distinguished by its sophisticated use of spices and herbs and the influence of the longstanding and widespread practice of vegetarianism in Indian society. Food is an integral pan: of India's culture, with cuisines differing according to community, region, and state.
Indian cuisine is characterized by a great variety of foods, spice's, and cooking techniques. Furthermore, each religion, region, and caste has left its own influence on Indian food. Many of the recipes have evolved since the days when India was predominantly inhabited by Vedic Hindus.
Later Mughals, Christians. British, Buddhists, Portuguese, and others had their influence. Vegetarianism came to prominence duing the rule of Ashoka, one of the greatest of Indian rulers who was a promoter of Buddhism. In India, food, culture, religion, and regional festivals are all closely related.
Indian food has evolved over centuries and has flourished under the many rulers that India had. Chefs vied with one another to create exotic delicacies for their rajah's. The result is centuries of patronage to the art of cooking and a large repertoire of delicious recipes. Indian Cuisine is becoming popular due to its exotic flavors and healthful preparations. The repertoire of Indian Cuisine is vast and the following are some of the interesting features of the cuisine.