Every thing about MOONG DAL PAKODA ,moong dal pakoda recipe, recipe for moong dal pakoda :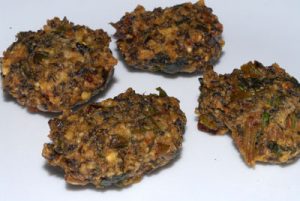 Moong dal pakoda
are popular quick snack with minimal preparation and are very
crunchy
and
delicious
.
Moong dal
as such is very healthy,
adds protein, fiber
and
nutrients
packed to your snacking in a tasty crispy package. These lentil based fritters are best enjoyed hot with green chutney.
Moong dal pakoda
is a healthy tea time snack adding ginger, cumin seeds that give a nice wonderful taste and aroma to the dish.
Mung
bean, also known as
green
bean
,
moong
,
green
gram
,
golden
gram
, and
green
soy
, is the seed of
Vigna
radiata
which is native to Bangladesh, India, and Pakistan.
The split bean is known as
moong
dal
,
Pesara
(Telugu), which is green with the husk, and yellow when dehusked. The beans are small, ovoid in shape, and green in color. The English word
"mung"
derives from the
Hindi
moong
.
Mung
beans
are mainly cultivated in
India, China, Thailand, Philippines, Vietnam, Indonesia, Burma,
and
Bangladesh,
but also in hot and dry regions of southern Europe and the southern USA.
In India and Bangladesh, they are grown during two seasons. They are generally eaten either whole (with or without skins) as
bean
sprouts
, or used to make the dessert "
green
bean
soup
".
Mung
batter is used to make crepes named
pesarattu
in
Andhra Pradesh
.
Whole
mung
beans are generally prepared from
dried
beans
by boiling until they are soft. Although whole mung beans are also occasionally used in Indian cuisine, beans without skins are more commonly used; but in Kerala, whole
moong dal
(
cheru
payaru
) is commonly boiled to make a dry preparation that is often had with rice
gruel
(
kanji
).
Dehulled mung beans
can also be used in a similar fashion as whole beans for the purpose of making sweet soups.
Mung beans
in some regional cuisines of India are stripped off their outer coats to make
mung dal
.
In Tamil Nadu and Andhra Pradesh,
steamed
whole
beans
are seasoned with spices and grated coconut fresh grated coconut in a preparation called
sundal
.
This provides high quality
protein
in a raw form that is rare in most Indian regional cuisines. To prepare the
Moong dal pakoda,
use the
moong dal
with the green skin on it. This would give a good texture and taste to the dish. Soak
moong dal
in water for an hour. Grind the
moong
dal
along with
ginger, cumin seeds
and salt .
The mixture should be little coarse.
Add chopped onions
and
crushed green chillies.
Mix the
chopped ingredients
and
curry leaves
with the grinded paste. Heat oil in a pan and take a handful of the batter and drop them little by little using the tips of your hand. Deep fry them until golden brown and drain them in a paper towel, to remove excess oil. This is a common street food in Central India and as all street food very yummy too. It is served with
fried green chillis
and yogurt chutney. Whenever it rains these pakoda are prepared and served with a cup of green tea.
Summary: Pakoda made with moong dal
Ingredients:
coriander leaves - 1 - bunch
curry leaves - 1 - bunch
ginger - 1 - number
green chillis - 4 -number
Moong dal - 2 - cup
Oil - 0 - to fry
onion chopped - 1 - number
salt - 0 - as needed
spring onions - 1- cup
Instructions:
Soak moong dal for 1 hr, then blend to a corse.In a bowl add blended moong dal, onion, spring onions,salt, green chillis, curry leaves, coriander leaves, ginger chopped mix well.Take a pan add oil for frying, make small dumplings and add to oil.fry till golden brown colour.
Cooking time (duration): 25
Diet type: Vegetarian
Number of servings (yield): 4
Meal type: snack
My rating: 5 stars: ★★★★★ 1 review(s)
This can be made with any dal, lentil or pulses specially Black Eyed Peas. Whatever you are using you need to soak it in water. Some of them take longer to reconstitute but for moong dal half and hour is enough. If you soak it for longer time the skin would get peeled off. It's a very healthy and nutritious snack for one and all.