Every thing about CURRY LEAVES RICE | Vahrehvah :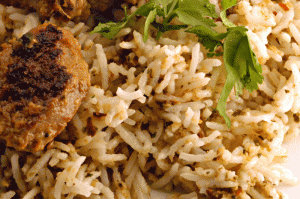 Curry leaves rice
, a natural green colorful aromatic unique and tangy
rice
based dish nutritionally packed and mildly flavored without being overpowered by the aroma of
curry leaves
combined with the natural heavenly sweetish flavor of freshly grated
coconut
and the tanginess of
tamarind.
It's a magical and bewitching aroma that makes this dish one of the most beautiful sensory culinary experience.
Curry leaf or
karivepaku
or
karipak
or
karuveppilai
known in different languages in
India
is one of the indispensable ingredients in everyone's kitchen especially in every south Indian kitchen. Virtually every home will be growing their own
karipak
plant in their kitchen garden or backyard. The
curry leaves
not only enhances the flavor of the dish but also imparts enormous
nutritional
effects.
It's a captivating experience each day right from the morning breakfast to night dinner watching the
aromatic
curry leaves
sizzle in the hot oil alongside the tempering companions. The
curry leaves
entices every sensory pleasure of dropping the leaves into hot oil and watch the leaves dance, swirl and sizzle and fill the kitchen with a bewitching aroma to bestow a delicious food in the making.
Curry leaf
is one of my favorite ingredients that I love to add in most of my dishes. There are many versions of making the Curry leaves rice. This
rice
can be either made with the spiced curry leaves powder or by grinding the
curry leaves
with other
spices
and mixing to the
rice
.
Curry leaves
are important to our
Indian
cooking. Most of dals are incomplete without a
curry leaf
in it.
That not being enough, we love the podis made with these leaves. The Curry leaves are highly
aromatic
and are used as an herb. It is also highly valued for its medicinal usage. In most of the kitchens in
southern India
you will find a spiced powder made from
curry leaves
ready at home which makes it more attractive. Mix this in hot
rice
with ghee, garnished with nuts. You wouldn't want to have anything else next to this.
Curry leaf
plant is a native of
Tropical Asia, southern India
and
Sri Lanka
and grows to a height between 2 and five meters. The leaves are small, pointed and in clusters, giving of a strong aroma faintly reminding one of
citrus
and anise. The
aroma
is delightful when added to curries and while frying spices, and lends that extra something to
south Indian
dishes.
Anyone familiar with
South Indian
cuisine in particular and
South East Asian
cuisine in general will remember those little pointy leaves floating in their gravy. The spicy, hot
chicken
,
prawn
and mutton dishes with little
nigela
and
mustard seeds
get their bitter aroma and aromatic antithesis from these little leaves.
To prepare the
Curry leaves
rice, firstly cook the rice and keep in room temperature to get cool. Take
curry leaves
,
tamarind, red chilies, freshly grated
coconut
and blend to form fine paste.Take a pan or
kadai
add oil or ghee when heated add
mustard, cumin seeds
and once it crackles add the
curry leaves
paste into the kadai and fry well till it becomes almost dry. Add salt and mix, add
rice
and mix well.
The
curry leaves
rice is ready to eat. You can add nuts if you want it to be crunchy or else with can also it with some gravy or lamb chops curry.
Do not miss preparing this unique and exotic dish. Watch the making of this wonderful aromatic dish at:
This
rice
does not call for any special ingredients. It is simple, healthy, easy to prepare & easy to digest. Curry Leaves have a special place in
Ayurvedic Medicines
, because of their many health benefits. Curry leaves paste when mixed with
buttermilk,
salt and
cumin seed
powder is a very home remedy digestive disorders, the curry leaves juice is also effective against heartburn.
Today
Scientists
are finding more about
curry leaf
– as it contain agents that slow down the rate of starch-to-glucose breakdown in people with diabetes. The
curry leaves
could control the amount of
glucose
entering the bloodstream. It also cures diabetes due to obesity, as the leaves have weight reducing properties. The curry leaves are is good nourishment for the hair roots. Ancient Indian Medicine for
kidneys
recommends the juice of the curry plant root.
Curry leafs rice

Author :
Published On : Jan 21, 2008
Preparation Time:

10

min
Recipe Type : Rices
Cooking Time :

5

min
Standing Time :

5

Yield :

4 (4 servings)

Ingredient : Coconut

Description : curry leafs (kurvepaku), tamerind( Chintha pandu), whole red chilli ( endu mirchi), freshly grated coconut ( pachi kobbari thurumu), dry fruits any Oil + Ghee, rice, cooked onerecipe by(daraninaidu)
Ingredient Name
Unit
Quantity
coconut

---

0

---

half cup

---

Curry leafs

---

cup

---

2cufs

---

Oil+ ghee

---

0

---

it should be enough to fry all the ingrediant

---

red chillies

---

0

---

depends on taste

---

Rice 500gms

---

cup

---

2cups

---

temarind

---

0

---

less than lemon size

---

pls cook rice and keep on room temparature to get cool and u take curry leafs and tamerind, red chilli coconut paste them finely and keep it aside take a pan pore oil+ ghee and fry all the besic dry fruits avalu cumin seeds and all add this paste let it sorte some time and take away and mix well with this rice it taste very yummy yummy to enjoy lunch or dinner its very good to serve to the guest also they will get wonder pls if u can modify if u can make better taste with this is very good taste recipe by(daraninaidu) vahchef did not add nuts as he has plans to eat it with chops , but you can cook it to your liking
serve with some curd or anything it goes well