Every thing about TINDORA CHUTNEY | Vahrehvah :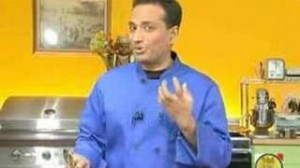 Tindora
or
Dondakaya chutney
is one of the most vital side dishes of India.
Tindora chutney
is very popularly prepared in southern India and especially in
Andhra cuisine
.
Andhra style chutneys,
especially vegetable based ones are common and regular in most of the kitchens in Andhra region.
Tindora chutney
is one simple and quickie recipe.
This
tindora
chutney perks up any boring meal and would entice all tindora lovers.
Tindora
also commonly known as the
Ivy Gourd (Coccinia grandis), parwal, kundru, tondli, toroda/kunduri (oriya), ghiloda, kundri, kowai, kovai, kovakkai, ,kovakka
(
Tamil
),
dondakaya, tondekayi, manoli, tindla, tendli
in other languages in India is a tropical vine. Ivy gourd or Tindora native range includes: Africa and Asia;
India
, Philippines, China, Indonesia, Malaysia, Thailand, Vietnam, eastern Papua New Guinea, Northern Territories (Australia).
Dondakaya
or
Tindora
are small edible fruits that may be eaten
immature
and
green,
or mature and deep red. The young shoots and leaves may also be eaten as greens. These are extensively used in
Indian cooking
. There are many variations of preparing the
Dondakaya
or
Tindora
. They are either stuffed in
spicy
curry
or prepared as
Dondakaya
fry
or made as
fresh
chutney
.
This is a very simple way to prepare
pachadi
and it equally tastes so delicious with rice. Chutney is a word incorporated into English from Hindi describing it as a pasty sauce in
Indian cuisine
. It is a term for a class of spicy preparations used as an accompaniment for a main dish.
Chutneys
usually contain an idiosyncratic but complementary spice and
vegetable mix
. In the past, chutneys were ground with a mortar and pestle made of stone also locally known as ammikkal (in tamil).
Chutneys
are usually wet having a coarse to fine texture. Various spices are added and ground in a particular order, the wet paste thus made is sautéed in vegetable oil tempering it with
mustard
,
cumin seeds, fresh curry leaves
and dry red chillies giving it an aromatic flavor. Adding a dose of roasted lentils and some
tamarind
with fresh curry leaves incorporates an herby flavor and crispness to the chutney.
Normally fresh
pachadis
are made of
Green
chilli
or
red
chillis
are fried in oil then dals like
black gram, red gram
or
moong dal
are also fried and then curry leaves and onion are added then ginger paste can be added and finally the main raw vegetable is also fried and mixed and grounded. Fresh pachadi is called chutney. There are a variety of vegetables that are used in making fresh chutneys like the dosakaya,
capsicum
, cabbage, coconut,
vankaya
(
brinjal
),
beetroot
, coriander, tomato, chintakaya, cucumber,
carrot
and beerakaya.
Out of all these the
coconut pachadi
is popularly used with breakfast tiffins like
idli
,
dosa
,
vada, mysore bajji
,
upma
and
pesarattu
. Though the
Tindora chutney
is basically eaten with rice, this chutney tastes fabulous even with rotis and other breakfast items like dosas, upma etc. For preparing this fresh
Tindora chutney,
wash the tindora thoroughly and cut them into small pieces and keep aside.
In a pan add little oil and roast cumin seeds, garlic, tamarind and chopped green chillies and mix well then add the tindora pieces and saute well and close with lid and cook till they are tender. Once the tindora are soft add this mixture to the blender and grind to a coarse paste. Now shift the coarse paste to a bowl and in pan heat oil for tempering. Add mustard and cumin seeds, once they crackle add dry red chillies, urad dal and fresh curry leaves. Add this tempering to the blended tindora mixture and mix well.
The
Tindora
chutney
is a very simple side dish and to spice up your life do prepare this and enjoys the flavors and the taste of this delicious dish. View making of this chutney at:
The
Ivy
gourd
or
Tindora
have got various medicinal qualities like drinking the juice of the roots and leaves of Tindora is used in the
treatment of diabetes
. The leaves are used as a poultice in treating skin eruptions. The plant is used as a laxative. It is used internally in the treatment of gonorrhea.
Aqueous and ethanolic extracts of the plant have shown hypoglycaemic principles. Therefore it is sometimes recommended for diabetic patients. So it can use for hypoglycaemic case, as antioxidants, as immune grower....etc. Some counties in Asia like Thailand they prepare traditional tonic like drinks for medicinal aspects.
Cultivation of ivy gourd in home gardens has been encouraged in Thailand due to its being a good source of several micronutrients, including vitamins A and C. Ivy gourd is rich in beta carotene. In southern India it is also used in sambar, a vegetable and lentil-based soup.
Tindora chutney
Author :
Ingredient Name
Unit
Quantity
cumin seeds

---

tsp

---

1/2

---

curry leaves

---

springs

---

2

---

garlic

---

number

---

5

---

green chillies

---

number

---

4

---

murstard seeds

---

0

---

pinch

---

oil

---

tbsp

---

2

---

red chillies dry

---

number

---

2

---

salt

---

0

---

as needed

---

tamarind

---

grams

---

50

---

tindora

---

lbs

---

1

---

urad dal

---

tsp

---

1

---
First take tindora wash them and cut them into pieces and keep a side. In a Pan add oil, cumin seeds,garlic,tamarind, green chillies,cut pieces of tindora, salt and cook for 5min with closed lid. once it is done add to blender grind till it is coarse paste. now in a pan add oil for tempering, add murstard seeds, cumin seeds, red chilli, urad dal, curry leaves. Add the tempering to the blended tindora mixture and mix well.