Every thing about Multani Soofiyani Paneer Tikki | Vahrehvah :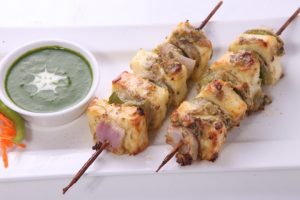 Its a soofiyani style paneer recipe from multan of pakistan. which has the use of methi. Multani Soofiyani Paneer Tikki is an awesome and exotic dish with exceptional flavours engulfed into the marinated paneer cubes, onion and capsicum dices. This paneer tikka preparation will be a delight for all the die-hard paneer eaters to enjoy and relish authentic flavours as it is prepared in the Soofiyani style influenced from the Mughlai cuisine.
The marination is the key element in actually letting out aromatic flavours. Thick hung curd combined with spices, warmth of cumin powder and shahi jeera along with interesting flavour of Kasoori methi, dash of lemon juice and roasted chana dal powder, all mixed together makes a nice coating around the paneer cubes and vegetables to bake. The final coating of melted butter brushed over the baked tikka is superlicious and divine on eating. It helps keeping the tikka moist and mouth-melting on bite.
Recipe: Multani Soofiyani Paneer Tikki
Paneer - 250 gms
Hung Curd - 2 tbsp
Ginger garlic paste - ½ tsp
Green chillies, finely chopped - 2 nos
Cumin powder - ½ tsp
Shahi jeera - ¼ tsp
Kasoori Methi pd (optional) - ¼ tsp
Garam masala - ½ tsp
Spring Onions, chopped - 1 tbsp
Roasted Chana dal pd - 2 tbsp
Salt - to taste
Oil - 2 tbsp
Onion, cut into dices - 1 no
Lime juice - 1 no
Directions:
Cut paneer into thick cubes.
For marination, take a bowl, add in hung curd, ginger garlic paste, green chillies, cumin powder, shahi jeera, kasoori methi pd, finely chopped spring onions, roasted chana dal powder, salt, little oil, and lime juice. Mix all ingredients to make a nice paste.
In the marination mixture, add onion and capsicum dices and slowly mix so that they get nicely coated with the masala. Lastly add the paneer pieces and mix gently.
Take wooden skewers (soak in water for 30 minutes before use), thread in a onion piece, capsicum piece and then a paneer piece, repeat till you skew all of them in the skewers.
Arrange the skewers in a baking tray and bake them at the maximum temperature possible until the paneer gets slightly browned.
Remove and apply some melted butter over the paneer and vegetable. Sprinkle little chaat masala and serve hot with mint chutney.
Paneer also happens to be one of the easiest cheeses to make at home, requiring nothing more than milk and lemon juice. It is one of the rich source of proteins for most vegetarians and are added to classic Indian dishes like kormas, curries etc.
Generally any paneer dish is often appealing does take everyone to a surprise mainly for its attractive super colour, taste, aroma and texture. The addition of lemon juice complements the natural tang and balances the heat from the spices and green chillies to suit every palate.
Do try preparing this awesome and striking Multani Soofiyani Paneer Tikki. It will surely be one of the best appetizer or starter to start a great meal! Do watch the video and enjoy cooking this easy and scrumptious dish. Paneer dishes are popular mainly in starters. There are a wide range of dry paneer recipes that tastes extremely fab and yum as starters or appetizers. Do try making this dish and I am sure your family and kids would enjoy the taste.
You could also check out for your other favourite paneer recipes at: https://www.vahrehvah.com
My rating: 4 stars: ★★★★☆ 1 review(s)
You could always reach me at my below links: My Cooking Videos Indian Recipes Indian Food Regional Indian Cuisines VahChef Sanjay Thumma
Enjoy Cooking and always remember that: "VahrehVah is all about inspiring others to cook"!