Every thing about LIVER MASALA | Vahrehvah :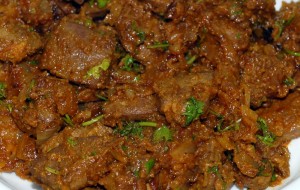 Liver masala
is quite a popular dish in dhabas and
restaurants
especially to have with drinks. A mixture of spices and
liver together
combined and nicely coated to make a nice dry dish.
Liver
especially the
Goat's liver
is considered to be a good source of
Vitamin A
and a good remedy for night blindness but for those with
cholesterol
should reduce liver consumption as its high in
cholesterol.
As liver is
bitter
in flavor
soak
the
liver pieces
in
milk
for
30 mins
to remove the
bitterness.
While cooking the liver you need to be careful that it should not be over cooked.
Liver
and
shrimp
have the same quality of meat in a way that they need to be cooked just right. If you over cook then they would become tough and rubbery.
To prepare the
Liver masala,
firstly soak the liver pieces in milk for
30 mins
and then throw away the
milk
and wash the liver thoroughly and put it in a bowl. To this add
red chilli powder, salt, ginger garlic paste,
and little oil and mix nicely. Take a nonstick pan and put the marinated liver pieces and sauté for 5 mins till all the moisture dries off and the liver slightly gets a golden color and transfer it to another plate.
In the same pan add oil,
whole garam masala
(cardamom, clove and cinnamon), chopped onions and sauté. Add salt. When the onion turn slightly golden color
add ginger garlic paste,
pinch of turmeric, chilli pd, coriander pd, coconut pd and mix, add little water and let masala cook on a
slow flame for 10 mins.
Once done the masala oozes oil then add the liver pieces and mix thoroughly cover and cook for 2 mins. Remove the lid and add garam masala powder, chopped coriander leave and little lemon juice mix and switch off the flame. When you eat a piece of liver masala it should just melt away in your mouth, that's when the liver masala is perfectly done.
It's a nice spicy dry dish.
Liver masala
is also popularly called as
Kaleji fry
(liver fry) in hindi.
Liver
is excellent for women during menstrual cycle as liver is a very
good source of vitamin A
and Goat liver can replenish the blood, tonify the liver and improve eyesight. Lamb liver is a great source of protein. One serving contain
s 23 g of protein
, which is
46 percent
of the recommended daily amount.
One serving of liver also has
46 percent
of your daily recommended amount of iron.
Liver
contains a considerable amount of fat. One 4-oz. serving has
6 g
of fat, which
almost
10 percent
of your daily recommended amount of fat. Those who have
cholesterol
concerns should avoid lamb liver. One serving of lamb liver contains
419
mg of
cholesterol,
which is
140
percent of your daily recommended allowance of cholesterol. Do try this dish out and give your kids the right food. View the making of
Liver masala
at:
https://www.vahrehvah.com/liver-masala
Liver Masala
Author : Admin
Published On : May 1, 2009
Preparation Time: 7 min
Recipe Type : NonVeg-Main
Cooking Time : 25 min
Standing Time : 5-8 mins
Yield : 4 (4 servings)
Ingredient : Lamb
Description : Lamb liver curry
Recipe of
Ingredient Name
Unit
Quantity
coconut powder

---

tsp

---

1

---

coriander leaves

---

bunch

---

1

---

corinader powder

---

tsp

---

1

---

garama masalas

---

number

---

2 no each

---

ginger garlic paste

---

tsp

---

1

---

Lemon

---

small

---

1

---

Liver

---

grams

---

500

---

Oil

---

tbsp

---

2

---

onions

---

cup

---

1

---

red chili powder

---

tbsp

---

1

---

salt

---

to taste

---

1

---

Turmeric

---

pinch

---

1

---

water

---

0

---

As needed

---
Take a bowl add live pieces into it add some milk to it and soak for 30min and then wash it with water, then add pinch of red chilli powder,salt,oil,ginger garlic past and mix it well.

Now take a nonstick pan add little oil then add the spices mixed liver pieces into it and saute them and let it cook for 5min and transfer it to another plate.

Take the same pan add oil, garama masalas, onions,ginger garlic paste,turmeric, mix them then add red chilli powder,coriander powder,coconut powder saute them add little water and let it cook for 5-10 min in very low flame.

Once masala is cooked add the cooked liver pieces into it and close with a lid cook for 2-3 min in slow flame.

After 3min remove the lid add some chopped coriander leaves if required lemon juice and serve.