Every thing about COLD COFFEE SHAKE | Vahrehvah, cold coffee recipe :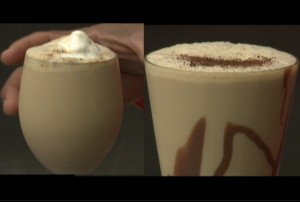 Cold coffee
has become one of the most popular drinks in India over the few years. Traditionally India was famous for the hot filter coffee specially made in
South India.
Over the years we have seen that a chain of
Coffee
shops
have spurted in large numbers and has become an upscale version in the espresso bar chains. Typically a
Cold
coffee
is made of Instant
coffee
mixed with ice cubes and milk in a blender.
This makes a smooth pouring consistency coffee. Sometimes the
cold coffee
is often called as iced coffee. Preparing the
Cold
coffee
is quite simple and fast. Take some instant
coffee
powder and add little hot water and mix it well. Take a blender; add ice cubes, the
coffee
mixture, milk, sugar and a scoop of vanilla ice cream. Beat it well in the blender. Vah! You get a thick pouring
consistency
mixture
. Ice cream is added to enhance the flavor and texture of the cold coffee. Pour it into a glass and your
cold coffee
is ready. There are many other ingredients too that be added to enhance the flavor like the
cocoa powder, vanilla extract, syrups
and
cream.
Summary: Quick and easy cold Coffee
Ingredients:
Coffee powder instant - 1 - tsp
hot water - 2 - tsp
ice cream - 1 - tbsp
ice cubes - 4 - number
milk cold - 2 small - cup
sugar - 1 - tsp
Instructions:
Take a bowl add coffee powder add hot water mix well.
Take a blender add ice cubes,coffee mixture, milk,ice cream and blend it.
Pour it in a glass and add ice cream on top or sprinkle coffee powder or grate cholate.
Cooking time (duration): 25
Number of servings (yield): 4
My rating: 4 stars: ★★★★☆ 1 review(s)
Recipe by
Vahchef
.
You can also make it look fancy by sprinkling some instant coffee on the top or garnish with some grated chocolate if you like the chocolaty flavor or even put a scoop of ice cream for the topping. Cold coffee goes extremely well with vanilla, chocolate ice cream or whipped cream. Normally in five star hotels they make the coffee flavor ice cream and mix in the cold coffee shake. Drink the tempting yummy cold beverage to beat the sunny afternoon to rejuvenate your energy.
Watch preparation of cold coffee shake.
https://www.vahrehvah.com/cold-coffee-shake