Every thing about fruit custard recipe, cream cheese fruit dip, fruit dip with cream cheese, fruit dip cream cheese. :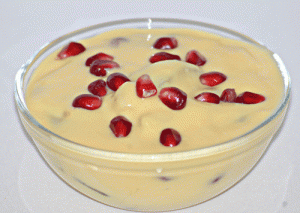 Fruit custard
is a delicious and
nutritious dessert
. A recipe loaded with mixed flavors of
fruits
nicely combined with
milk,
custard powder and cream to give a smooth and nice texture is a perfect dish to attract kids. One of the
best desserts
for kids especially who do not like to drink milk or eat fruits separately.
Fruit custard is a
yummy
dish for the vegetarians too as in most of the western countries they use
egg
in preparing the custard, but in India it is prepared without the
egg
factor. They are many ways to make the custard and various other ingredients also can be added as per your
choice and taste
.
Most of the people who are health conscious and are on a
diet
regime could also make the custard with low fat milk to save
calories
. Fruit custard is one of the simple recipes to prepare and
fast to cook
. This dish is available in most of the restaurants in India.
It has turned out to be a cool, refreshing dessert with fresh fruits and sometimes also they add
dry fruits
to give nice crunchiness to the dessert. Fruits that are seasonally available are added in the
fruit custard
in most of the
restaurants
. It is always best to choose fruits which do not release moisture once added to the custard. Fruit custard is an Indian specialty dessert made from
milk
and custard powder, which is a blend of cornstarch and sugar, Custard powder usually has yellow coloring.
Other cooks in India, like those in
Europe,
flavor their custard with vanilla. The primary difference between the Indian and the European custards is the presence or absence of
eggs
. The fruit custard prepared in India more or else resemble like the American vanilla pudding.
For a luscious result, add whipping cream to the custard and adjust the amount of
sugar
according to the fruit's
sweetness
. A great variety of diced fruits can be used in the fruit custard like the
peaches
,
mangoes
, sliced
bananas
, diced
oranges
,
pineapple
, berries and halved grapes are frequnutsent choices, or canned mixed fruit and
dried fruit
.
Add diced apples and pear which gives a crunchy texture in the smooth dessert. Few chefs add
banana puree,
which adds not only flavor and sweetness to the custard but gives a rich texture as well or also add
mango puree
to give a uniform texture and color, instead of dicing them.
Nuts
are a beloved Indian addition, especially
cashews
. If you add them, choose unsalted ones. Some people also add cubes of firmly set jello, for an additional element of refreshing texture.
To prepare this
luscious
lip smacking
dessert
, take custard powder in a bowl and mix it in the cold milk to make a fine paste (without lumps) and keep aside. Now start boiling the milk and after 10 minutes add some sugar to it and continue boiling for another 10 minutes.
Then add the paste to the
boiling milk
and keep stirring till it becomes thick. Once the mixtures gets pretty thick, turn off the gas and wait till it cools down and keep stirring in between. Once the custard is completely cooled down add the
fruit
pieces
. Now the custard is almost ready.
Refrigerate it for about 2 to 3 hrs till it gets thicken and chilled. Serve chilled. Always add the
banana slices
just before serving the custard or else they will get discolored. Up till here it is fairly healthy, But if you want, you can decorate with little whipped cream and
dry fruits
and
nuts
. Alternately serve in individual bowls. Other flavoring like cardamom or kesar or chocolate is also added to the fruit custard as per your choice. Check and click here to see the making of the fruit custard. It's truly a yummy recipe
https://www.vahrehvah.com/indianfood/basic-fruit-custard
Enjoy and eating this delicious dessert!! Fruits is one of the most healthy and natural foods in existence. There are thousands of different types of fruits available to eat which provide us with strong health benefits. Fruit contains a large number of naturally occurring vitamins, minerals and plant phyto chemicals.
It has also been shown that eating the whole fruit or juice is best to gain the benefits rather than taking supplements to provide each nutrient separately. It has been recommended that we should be eating at least 5 pieces of fruit every day in order to gain the full health benefits of eating fruit.
Fruit
is also low in sodium so they help reduce the chance of gaining water weight
.
Fruits have better bioavailability. Hence, they can be easily assimilated and digested by human body. Modern diet habit is highly chaotic. Genetically modified, junk and fast food are making the whole situation more complex. Fruit salads excel in both the fronts.
basic fruit custard

Reviews
Author :
Published On : Dec 27, 2007
Preparation Time:

7 min

Recipe Type : Desserts/Sweets
Cooking Time :

25 min

Standing Time : 5-8 mins
Yield :

4 (4 servings)

Ingredient : Milk

Description : custard made from custard pdr and fruit
Ingredient Name
Unit
Quantity
cream

---

ml

---

100

---

custard pdr

---

tbsp

---

3

---

milk

---

ml

---

500

---

mix fruits

---

grams

---

500

---

sugar

---

grams

---

150

---

heat milk and in some milk add custard pdr and dissolve add sugar to milk and bring it to boil add the custard and milk mixture to boiling milk and mix continously till it is thick and coats back od spoon cool down add cream and fruits ,serve cold