Every thing about BAKED TROUT | Vahrehvah :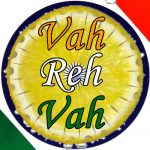 Baked Trout is excellent, simple, easy to make, low fat and highly nutritious dish made with rainbow trout sprinkled with little salt and pepper; baked and flavoured with some butter, lime juice and parsley. Trout is a popular fish to eat for many seafood lovers and cooking trout is very simple process with different seasonings and rubs can be used according to one's individual tastes.
There are many versions of preparing this type of fish for an appetizing meal. Trout comes from the salmon family and exist in over twenty different sub-spices. Though several of these species are edible, rainbow trout and brook trout are most commonly consumed.
Rainbow trout, though caught wild, are part of a substantial fish farming industry. The taste of the fish varies based on the location of their habitat and the fish's diet. Trout that eat shrimp and crayfish are considered to be the tastiest fish. Rainbow trout is low in fat and is a rich source of protein.
A baked or pan fried rainbow trout with some fresh vegetable salad and rice tastes extremely great and is a scrumptious meal. The main key is always to cook your trout as soon as possible after the catch; this will ensure you get the best taste and full flavour of the fish and prevent the fish from taking on a strong, fishy flavour.
There are many varieties of trout apart from the rainbow trout and brook trout. Brown trout and tiger trout are also popular varieties of trout. Most trout can be found in various lakes or streams. Brook trout are the most typically cooked and eaten by fish-lovers, although all types are edible.
Trout is a versatile fish and can be cooked in many ways. The trout is relatively inexpensive to buy and healthy to eat. Fish is popular seafood that is recommended by most nutritionist as they are a great choice for a tasty meal, low fat and nutritious. Moreover, trout itself offers a number of specific benefits.
Trout includes many heart-healthy vitamins, minerals and high levels of Omega-3 fatty acids. It is inexpensive and also cooks very quickly, compared to red meat Rainbow trout are native from northern Mexico to southern Alaska west of the Rockies.
Rainbow trout prefer clear, cool, high quality water. Rainbow trout are easily identified by the broad reddish band or "rainbow" which runs along their side from head to tail. Rainbow trout is popular in Western cuisine. It has tender flesh and a mild, somewhat nutty flavour. However, farmed trout and those taken from certain lakes have a pronounced earthy flavour which many people find unappealing; many shoppers, therefore, ascertain the source of the fish before buying.
Wild rainbow trout that eat scuds (freshwater shrimp), insects such as flies, and crayfish are the most appealing. To bake or grill the trout in a microwave, firstly wash 2 whole boneless fresh rainbow trout thoroughly and make light slashes across the entire body and place them in the baking tray.
Take a sauce pan and add 4 tablespoon of butter on medium hot heat. Cook the butter until it becomes nutty and golden brown. Turn it off and spread this butter (about ½ teaspoon) on the boneless rainbow trout and spread it well. Sprinkle some salt and pepper and place it inside a preheated half broiler about 5 or 6 inches from the heat for just a couple of minutes.
Once it's done (Meat should flake easily, and not be soft to the touch), remove and place it in a serving plate. To finish the dish off, place the remaining butter onto high heat and when it boils, add 2 tablespoon lemon juice and 2 tablespoon chopped fresh parsley and mix well. Apply this sauce over the baked trout and serve.
Tip: The sauce here, if you can even call it a sauce, is a simple brown butter, spiked with a little lemon and parsley. Since trout is such a light fish, this minimalist preparation is perfect. If you are feeling adventurous, try some variations on the Italian parsley – almost any of the tender, sweet herbs – dill, tarragon, chervil, etc., will work beautifully here.
You can also experiment on simple ideas to spice up your entrees like serving with Mushroom sauce, Sauce Marinara, and Herb Sauce are all excellent complements to trout entrees. Serve hot over trout. Fish make a significant contribution toward reducing fat in our diet. Not only is fish low in fat, but it is also a tasty, highly nutritious and wholesome food that can offer an endless variety to menus.
It can be a delightful addition to any meal, and is an excellent source of protein and other nutrients. There are many ways of cooking the fish according to the regions and their spices. Popular fish recipes from the Indian cuisine are: Fish Moilee (from state of Kerala), Andhra Fish Curry, Mangalore Fish Curry, Hyderabadi Fish Curry, Bengal Fish Curry and so on.
Baking a trout in foil is a good way of cooking a large trout or fillets because it keeps the fish nice and moist. Like other cold water fish, trout is commonly baked or grilled. Barbecued trout in the summer is popular, as spicy and sweet sauces complement the nutty, earthy taste of most trout.
Do try this luscious recipe and enjoy the flavours. Enjoy Cooking!