Every thing about Fat Free Chutney | Vahrehvah :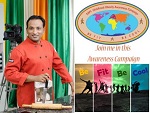 Indian cuisine has myriad varieties of sweet, spicy and tangy chutneys that are a common dish often prepared with fresh vegetables, fruits or a mix of both and herbs and spices. Chutneys are also made from coconut, nuts and seeds. It is generally served as a side dish. They act as an amazing appetizer and some are truly good for digestion.
Chutneys add their own unique flavor when accompanied with idli, dosa, vada, chaat items etc. A scrumptious Indian meal is incomplete without hot, spicy and tangy chutney. Sweet chutneys are generally served with crackers or sandwich while spicy, tangy chutneys are either served with hot steamed rice drizzled with ghee or roti or paratha. Indian chutneys are grouped into two varieties, sweet and hot. The main ingredients are the chillies and tamarind but differ in the main flavour.
Chillies offer their spiciness while tamarind gives a nice tangy zest and sweet taste to the dish. They are usually made either wet or dry having a coarse or fine texture. There are limitless varieties of chutney and various ways of making single chutney. Idli Peanut chutney is an awesome spicy accompaniment which can be substitute to coconut chutney, Tomato chutney, Onion chutney, raw mango chutney, Til ki chutney (sesame seeds) etc. Traditionally made chutney is different from region to region or person to person also.
The various flavours and textures are of special importance. Other common variety of chutneys that is valued in Indian cuisine includes Tomato chutney, Garlic chutney, Brinjal chutney, Mint coriander chutney, Turai (Beerakaaya) chutney etc. In our quest in supporting the, "BE FIT.
BE COOL" campaign, here is an awesome, mouth-watering and appetizing fat free chutney that is easy to prepare, no cooking hassles and are fresh and natural. Above all this, this chutney is fat-free, no cholesterol and light to eat with roti, paratha, and pulaos etc. This chutney is made with fresh red tomato, few cucumber pieces, green chillies, few pods of garlic, cumin seeds, fresh coriander leaves, pineapple pieces, dash of lemon juice, all of these are ground to a coarse paste and served fresh.
This fat free chutney is a super, creamy, slightly sweet, mildly spiced versatile accompaniment served with pulao, roti or paratha. Made with the goodness of cucumber and tomatoes, flavoured with few garlic bulbs, spiced with green chillies, and tangy savour from lime juice, kick of sweet and tanginess zest from the pineapple pieces; all blended together coarsely and added with few low fat bread gives a nice texture and dense to this fresh fat free chutney.
Wow! This chutney is actually a very different dish made from the regular variety which is normally prepared on daily basis at most homes. This has unique taste, aroma and is just mind boggling. Traditionally all chutney are given a shot with tempering of few mustard seeds, urad dal etc, but this is an easy and quickie fat free chutney that would really taste awesome and tickle your taste buds asking for more. Every ingredient added in this fat free chutney has the goodness of various health benefits and offers numerous vitamins and minerals.
Tomato: Tomatoes are valued mainly for their sweetish tangy taste, they're juicy and delicious. While most of us use tomatoes extensively, hardly does anybody know about its nutritional benefits. Ummm…. Yes, tomatoes have vitamin C, are low in calories, fat-free and this glossy red wonder fruits are packed with full of vitamins including vitamins A,C and E. They also contain flavonoids (natural anti-inflammatories), potassium and other mineral salts. Tomatoes contain a high volume of water, and they're refreshing in salads on hot days.
Cucumber: To be "cool as a cucumber" add them to your menus during the warm summer months when they are in season. This vegetable's high water content gives it a very unique moist and cooling taste. Cucumbers are best to be eaten as salad or by itself or even grated and mixed with yoghurt and eaten as raita.
It makes one feel very refreshing. Cucumber has cleaning properties that removes accumulated waste and toxins from our body. It may improve arthritis since it eliminates uric acid. Cucumber is also good to reduce heat and inflammation. It is very useful to treat tired eyes and remove the eye bags under your eyes by placing a slice of cucumber over closed eyes. It also helps lung, stomach and chest problems, gout, and tapeworm. Fresh cucumber juice is good to reduce heartburn or sooth stomach acid, also for those suffering from gastritis or ulcer.
Garlic: Garlic is a wonder herb best known as flavouring for food. When raw, garlic has the strongest, pungent flavour but when cooked or baked whole, the flavour mellows into a sweet, almost nutty flavour. This nutty flavour makes a surprising addition to various dishes. Likewise, when sautéing garlic, one need to be careful as to not to burn the garlic or else the flavour turns intensely bitter. Apart from not just offering its enticing flavours, garlic is also very beneficial to various diseases and conditions.
Garlic is used for many conditions related to the heart and blood system. These conditions include high blood pressure, high cholesterol, coronary heart disease, heart attack, and "hardening of the arteries" (atherosclerosis). It is also used for building the immune system, preventing tick bites, and preventing and treating bacterial and fungal infections.
Pineapple: Pineapple can be consumed fresh, canned or juiced and can be used in a variety of ways. They are popularly used in desserts, salads (usually tropical fruit salads, but it can vary), jams, yoghurts, ice creams, various candies, as a complement to meat dishes and in fruit cocktail. The popularity of this fruit is due to its sweet-sour taste. Colorful, delicious fresh fruit salad is a temptation to many especially kids and this fruit is a perfect addition to any meal and makes a great snack or dessert.
Pineapple is a perfect addition to fruit salads, especially when added to those containing other tropical fruits such as papaya, kiwi and mango. Add fresh pineapple or pineapple juice to your diet which is one of the excellent ways to improve your health and boost your healing capacity in a natural and tasty way. They are nutritionally packed with antioxidant and bromelain.
Green Chillies: Green chilli or chilli peppers are a vital part of every cuisine in the world and also an important ingredient used in human diet. Chillies are an important ingredient in almost all curries (vegetables or meat), soup and food recipes. There are a variety of chillies with different colors, sizes and in fresh or dried form.
Normally chilli peppers are commonly divided into three groups: Bell peppers, sweet peppers and hot peppers. Capsaicin is the substances that give chili peppers their intensity when ingested or applied topically. In India, green chillies are extensively used in many varieties of chutneys like the coconut chutney; tomato chutney, coriander green chutney etc and they are also used in various Indian recipes and curry pastes apart from Thai and Chinese recipes.
Chutney is quite similar to the Indian pickle, salsa of Latin America and the European relish. Green chillies are rich in vitamins and low in fat and cholesterol and are considered as an excellent ingredient that enhances flavor and taste of the food. There are number of ways where one can enjoy the taste of the chillies by using them fresh, dried, ground, canned or pickled. They have got many health benefits as they are rich in vitamin A and C while the dried ones are higher in vitamin A and the fresh higher in vitamin C.
The green chillies are also rich in vitamins B and E and a good source of iron and potassium. They are free of fat and cholesterol which helps block the body's absorption of cholesterol while remaining low in calories. Do try preparing this wonderful and finger licking fat free chutney and always eat wise and healthy. It is important that we eat a rich whole meal full of all nutrients in moderate levels. You could always reach me at my website for more amazing nutritious and healthy recipes at:
www.vahrehvah.com You could also follow this campaign to gain knowledge on some special features and advices from eminent doctors from AAPI (American Association of Physicians of Indian Origin) and also get to know of healthy recipes and diets from popular Chefs that you and your family can relish and enjoy staying fit and strong.
To follow, do click on: https://www.facebook.com/AAPIChildhoodObesity
Enjoy healthy eating and Be Fit. Be Cool!