Every thing about chilli paneer recipe,how to make chilli paneer, chilli paneer recipe dry. :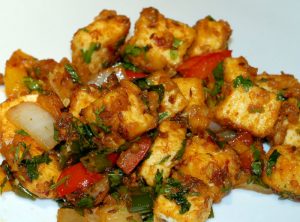 Chilli Paneer
is a very popular appetizer in most of the Indian Restaurants. This is one of the Indo-Chinese fusion foods and is prepared with
Paneer
with few Chinese sauces/ ingredients. Chilli Paneer is one of the best dishes spicier in taste and a real treat especially for all the
vegetarians
. Chilli Paneer is a simple dish and easy to prepare. It is made from
paneer (soft cheese)
, bell peppers, green chilies and other spices to give it a nice yummy taste. The paneer cubes are batter coated and then fried.
These fried paneer cubes are stir fried with
capsicum,
and onions along with a delectable blend of
Chinese sauces
. This can be served as a starter or main course. It tastes well with
Naan, Paratha or even with rice
. It's always best to use home made paneer as they would be fresh in quality and
dense, crumbly
texture.
As paneer by itself is unsalted white
cheese
which does not have any taste goes startling when mixed with strong flavours. Paneer is a unripened fresh and delicate cheese made from
cow milk
in Indian subcontinent. Paneer, rich in
nutrients
but not too heavy on
calories
, involves somewhat delicate making procedure.
It is made by curdling milk, tying the residence whey in muslin cloth, and then placing under pressure to solidify.
Paneer
is a versatile dairy product and used to make
sweets, snacks or curry vegetables
.
Paneer
is fresh cheese common in
South Asian cuisine.
It is of Indian origin. It is generally called Chhena in eastern parts of India. Unlike most
cheeses
in the world, the making of paneer does not involve rennet as the coagulation agent, thus making it completely
lacto-vegetarian
and providing a source of protein for vegetarian Hindus.
For
preparing the Chilli paneer
, initially cut paneer into cubes. Put the paneer pieces in a bowl add salt, ginger garlic paste,
cornflour, a little water
and if you eat egg then add an
egg
and mix well. Add the paneer pieces to this mixture and add a little
maida
and coat the paneer pieces well.
Deep fry the
paneer pieces
until slightly brown in color over a slow flame. Keep aside. In a pan, add little oil,
add cumin seeds, chopped garlic, ginger garlic paste, chopped green chillies, small cubed
cut
onions, coriander powder
and mix well. Add a little water, chilli garlic
sauce, ajinomoto,
red and yellow capsicum cubes,
soya sauce
, curry leaves, salt, lime juice
and mix. Add the
fried paneer
to this spices mixture and mix well. Once done lastly finish off with fresh coriander leaves.
It's truly a feast for the vegetarians. The Chilli Paneer combined with
bell peppers
is a wonderful combination leasing out its tangy taste and crunchy texture of the
vegetable
with their beautifully shaped glossy exterior that comes in a wide array of vivid colors ranging from green, red, yellow which is a visual treat to the eyes.
Capsicums are used as
spices, vegetables and medicines
. They are commonly called as
chilli peppers
(red, green or yellow). The large mild form is called bell pepper in the U.S. and Canada. They are called paprika in some other countries (although paprika can also refer to the powdered spice made from various capsicum fruit).
The original
Mexican term, chilli
(now chile in Mexico) came from the
Nahuatl word chilli
or
xilli, referring
to a
larger Capsicum
variety cultivated at least since
3000 BC
, as evidenced by remains found in pottery from
Puebla
and
Oaxaca. Bell peppers
are not 'hot'. They contain a recessive gene that eliminates
capsaicin
, the compound responsible for the 'hotness' found in other peppers.
Chilli paneer
is a
favourite snack
to many and love to eat as appetizer.
Peppers
are excellent
sources of vitamin
C
and
vitamin A
(through its concentration of carotenoids such as beta-carotene), two very powerful antioxidants. These antioxidants work together to effectively neutralize free radicals, which can travel through the body causing huge amounts of damage to cells.
Free radicals are major players in the build up of
cholesterol
in the arteries that leads to atherosclerosis and heart disease, the nerve and blood vessel damage seen in diabetes, the cloudy lenses of cataracts, the joint pain and damage seen in osteoarthritis and rheumatoid arthritis, and the wheezing and airway tightening of asthma.
Summary: a simple preparation of paneer with chillies
Ingredients:
ajinomoto - pinch - pinch
chilli garlic sauce - 1 - tsp
coriander powder - 1/2 - tsp
Corn flour - 1 1/2 - tbsp
cumin seeds - 1/2 - tsp
curry leaves - 7 - number
egg - 1 - number
garlic chopped - 1 - tsp
ginger garlic paste - 1/2 - tbsp
green chillies - 4 - number
lime juice - 1 - tsp
maida - 1 - tbsp
oil - for fying
onion - 1/2 - cup
paneer -1 - lbs
red bell pepper - 1 - cup
salt - as per taste
soya sauce - 1 - tsp
water - as needed
yellow bell pepper -1 - cup
Instructions:
Cut paneer into cubes.
Take a dish add salt,ginger garlic, water,egg and mix well and pour on the cubes mix well and add maida.
Take oil to fry add the mixed paneer into it and fry in very slow flame.
Take a pan add oil cumin,garlic,ginger garlic paste,chopped green chill,onion,coriander powder,little water,chill garlic sauce,ajinomato,red bell pepper,yellow ,chilli powder,soya sauce,curry leaves,salt,lime juice, if you want to add colour u can, now add paneer and mix well,
Finely finish it off with coriander leaves.
Cooking time (duration): 25
Number of servings (yield): 4
Meal type: lunch
My rating: 5 stars: ★★★★★ 1 review(s)
Recipe by
Vahchef
.
To enjoy this mouth watering tangy Chilly Paneer do watch the video at: