Every thing about ALOO BONDA | Vahrehvah :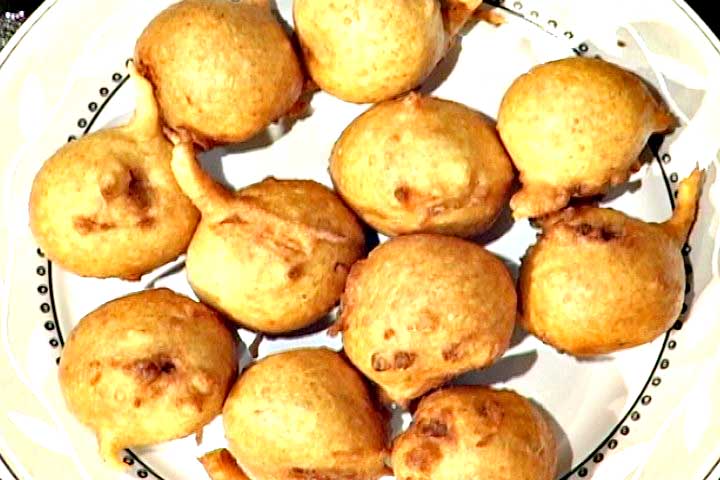 Aloo Bonda
is one of the most popular snacks served in functions, parties etc. It is also mostly available in the school, college canteens.
Aloo
bonda
is also known as the
batata vada in Mumbai. Aloo bonda
is a typical South Indian snack. It is a deep fried savory snack stuffed with
potato spices
mixture.
Aloo bonda
is crispy outside and soft inside.
Aloo bonda
is liked by one and all because it's made of
aloo
(potatoes).
Potatoes
are a favorite vegetable to all. Potatoes are best known for its
carbohydrate
(
starch
).
Potato
also contains vitamins and minerals. Potatoes can be prepared in many ways like boiled, fried, baked etc.
French fries
and
potato
chips
are most popular snacks prepared with
potato
. Bonda as such can have a sweet and a spicy variant.
Some of the variety of
bondas
includes
Egg bonda, Tapioca bonda, Vegetable bonda
etc. Normally
Keralites
and
Gujaratis prepare
a sweeter version of
bondas
whereas as in
Mumbai
and
Hyderabad
it's the savory
bondas
that are popular. Batata vada, "
Batata
" originated from the
Portuguese settlements
along the west coast of India during the 16
th
/17
th
century.
Batata vada
consists of
mashes potatoes
coated with
chickpea flour
and deep fried. This is served with chutney, a savory condiment.
Summary: potatoes mashed and coated with batter and deep fried
Ingredients:
ajwain - 1 - pinch
baking soda - 1/4 - tsp
cashewnuts - 2 - tbsp
chilli pdr - 1 - pinch
chopped coriander -1 - bunch
chopped ginger - 1 - slice
chopped gr chilli - 2 - number
cumin - 1 - tsp
curry leaves - 5 - leaf
gram flour ,beasan - 2 - cup
mustard - 1 - pinch
oil - 1 - to fry
onion - small - 1/2
potato boiled mashed - 4 - number
salt - 1 - to taste
Instructions:
heat oil in pan , make sure use very little oil add cumin ,mustard ,turmeric all spices and onionmix it with mashed potato and season wellmake batter with gramflour as shown , or check out the video of pakodas for detail procedure for batterdipp the dumpling of potatoes in the batter and fry in medium heat till golden brown and serve hotwith your fav chutney
Cooking time (duration): 25
Diet type: Vegetarian
Number of servings (yield): 4
Meal type: snack
My rating: 4 stars: ★★★★☆ 1 review(s)
Recipe by
Vahchef
.
For all those you love to eat the aloo bonda, the preparation is quite simple. To prepare the potato filling, boil and mash coarsely the potatoes. Heat oil in a pan, add mustard seeds, cumin seeds, asafoetida, green chillies, onions, chopped ginger, turmeric and salt and fry for few seconds.
Once cooked, cool and make them into small dumplings and keep aside. For the outer casing, make a thick batter using chick pea's flour, seasoned with salt, turmeric, red chilli powder and little baking powder to make the batter fluffy. You can also add little rice powder to get the crispiness on the outer side.
Heat oil and take the small balls of potato mixture, coat in the chick pea flour batter and deep fry in hot oil. To prepare the chickpea (gram flour) batter, watch the video of Pakodas for detail procedure. Serve hot with your favorite chutney.
Now you don't need to walk on the streets of mumbai searching for Batata vada or Aloo bonda as you can always prepare it at home. Do check for the preparation of Aloo bonda at: