Every thing about Yam Masiyal | Vahrehvah :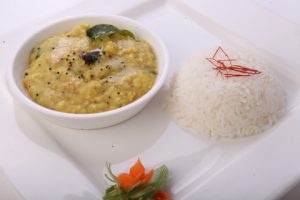 Yam Masiyal is an excellent south Indian curry preparation made combining boiled and mashy yam (elephant yam) with boiled tur dal seasoned with spices, fresh herbs, fresh grated coconut and drizzle of lemon juice giving an amazing tang to the dish.
The tempering in done in coconut oil which enhances the flavor and gives a unique taste.Yam Masiyal known for its mashyness is cooked along with boiled toovar dal. It has the flavor of coconut oil and lemon. Masiyal actually means boiled and smashed, hence the vegetable and the dal are cooked first, mashed well and then tempered with aromatic seasonings.
Elephant yam is a very popular edible tuber that is consumed in most tropical regions. The yam vegetable is quite huge in size and looks very similar to an elephant's foot hence the name elephant yam. Vah! Sounds funny but many consider it this way.
Recipe: Yam Masiyal
Ingredients:
Elephant yam, cut into pieces - 1 cup
Tur dal, boiled - 1 cup
Coconut oil - 1 tbsp
Mustard seeds - ½ tsp
Red chillies - 2-3 nos
Split Urad dal - ½ tsp
Green chillies, chopped - 3-4 nos
Curry leaves - 2 sprigs
Hing - pinch
Turmeric powder - ¼ tsp
Sugar - ¼ tsp
Salt - to taste
Freshly grated coconut - ½ cup
Lime juice - 1 no
Directions:
Cut elephant yam into small pieces and cook in water until it becomes a mashy consistency.
Boil tur dal, mash and keep aside.
Mix the mashy yam and dal together.
For tempering, heat some coconut oil in a kadai and when it gets hot add mustard seeds. When the mustard seeds crackle, add red chillies, split urad dal, chopped green chilli, curry leaves, hing, turmeric powder, sugar, salt and freshly grated coconut. Sauté the ingredients and cook for a minute.
Add the yam, dal mash and stir well. Add some lime juice and mix. Allow cooking till it comes to a boil and switch off the flame.
Serve hot with rice.
Yam is used in making fries, curries and in stew. In southern India there is popular dish namely Kandagadda pulusu which is yam cooked in tangy spicy tamarind gravy. Yam is very high in carbs and also good source of proteins and certain vitamins. It is nutritious to eat yam for its antioxidants.
Yam is considered as a natural cure for constipation. It also has high concentration of few key minerals that includes potassium, magnesiuim and phosphorous. Consumption of starchy vegetable in moderate is good for health and help in maintaining a balanced diet and healthy lifestyle.
Overall elephant yam has a unique nutritional profile and offers a number of significant health benefits. Do try this Yam Masiyal recipe; I am sure you will love to prepare it again and again. To try more mouth-watering and scrumptious dishes of your choice, do click on: www.vahrehvah.com
My rating: 4 stars: ★★★★☆ 1 review(s)
You could always reach me at my below links:
Enjoy Cooking and always remember that: "VahrehVah is all about inspiring others to cook"!