Every thing about PAKORA PAKODA | Vahrehvah :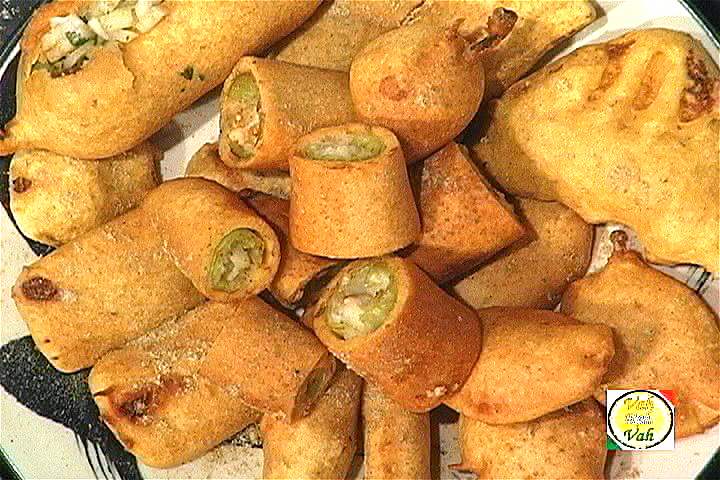 Welcoming the first showers of monsoon with a plate of varied hot
Pakoras
or
Pakodas
is really enticing. Usually after beating through the scorching heat of summer and the sky transforming into black clouds allowing the first drops of drizzle to fall down, a wonderful sight to enjoy and passing through the dusty, dry red earth turning into a greeny landscape emitting a musky
sweet
fragrance of the mud is thrilling.
What else but one would thrive for a wonderful cup of hot steaming tea and huge plate of hot yummy
Pakodas.
Pakora
or
Pakoda
or
Bajji
is all the same. It is a fried savory snack popularly prepared across
South Asian countries.
Bajji is a simple dish prepared by dipping the sliced vegetable in the batter and deep frying it.
Pakodas
is one snack which is synonymous with the advent of rainy season.
A plate of hot crispy batter fried
pakodas
prepared with different types of vegetables like the
potato, brinjal, raw plantain, bread, banana
chillies that melts in your mouth is very addictive. The batter made out of chick pea flour is versatile because you can dip almost any vegetable you like or
bread
or
paneer
to make the most delicious of Pakodas.
A version of
pakora
made with wheat flour, salt and tiny bits of
potato/onion
(optional) is called
Noon Bariya
(Noon means salt), typically found in eastern
Uttar Pradesh
in India. Pakoras are usually served as snacks or
appetizers.
They are also sold as
fast food
snack as an alternate to
french fries
or
kebabs.
They are served normally during weddings, birthday parties or any special occasions too.
In
Southern India,
such preparations are commonly known as
bajji
rather than
pakoda.
For instance,
potato bajji
is sliced
potato
wrapped in batter and deep fried. In such
states, pakoda
is meant a mix of finely cut onions, green chillies and spices mixed in gram flour. This is rolled into small balls or sprinkled straight in hot oil and fried. These pakodas are very crispy on the outside and medium soft to crispy inside.
There is also a variety that is softer overall, usually termed
Medhu Pakoda
in restaurants. It is relatively softer (like the pakoras) and made of any other ingredients such as
potatoes
etc. The word pakora is derived from Sanskrit
pakvavaṭa,
a compound of pakva 'cooked' and vaṭa 'a small lump' or its derivative vaṭaka 'a round cake made of pulse fried in
ghee'.
Preparing the Pakoras is quite simple and fast.
As preparing the dish of your selected
vegetables
is still awesome. Some of the various types of pakodas are:
Bread Pakoda
is an
Indian
twist on a western concept! This delicious snack is also wholesome enough to eat as a meal. Serve it with
Tamarind
or
Mint-Coriander Chutney
. It's a dish that kids would enjoy.
Banana Chilli bajjis
, the most popular street food incredibly easy to prepare at home and make an excellent way to begin almost any special meal or they can be served as a light meal/snack on busy days. Use
banana peppers
which are less spicy than the
usual Indian green chillis.
Wash and
dry the green peppers.
Take a pepper make a slit lengthwise in the middle, keeping the ends intact. Scoop out the seeds with a knife or spoon leaving the insides clean for the stuffing. For stuffing take 1 cup of mashed potato, 2 tbsp chopped fresh coriander leaves,1 chopped onion, pinch of salt,1 tsp grated ginger,1 1/2 tsp chaat masala (pinch of garam masala pwd). Mix well and keep aside. Prepare the chick pea flour batter, dip the stuffed banana chilli and deep fry till cooked. A perfect snack when teamed with hot cup of Masala Chai on a cold day.
Summary: Pakora Pakoda Recipe made easy, learn how to make pakora pakoda Recipes at home.
Ingredients:
Ajwain -carom seeds - 1 - pinch
baking soda - 1 - pinch
Beasn - gram flour - 4 - cup
chilli pdr - 1 -tsp
cumin seeds - 1 - pinch
salt - 1 - to taste
Instructions:
mix all the ingredients make a smooth batter , dip any vegetables in this batter and fry sprinkle with chat masala serve with tangy dippings
Cooking time (duration): 25
Number of servings (yield): 4
Meal type: snack
My rating: 5 stars: ★★★★★ 1 review(s)
Recipe by
Vahchef
.
While frying the pakodas or bajjis always fry them on medium flame and fry them in batches. Watch the video at
Do prepare this delicious dish and have a wonderful treat with the family.
Happy cooking!