Every thing about MYSORE BONDA | Vahrehvah :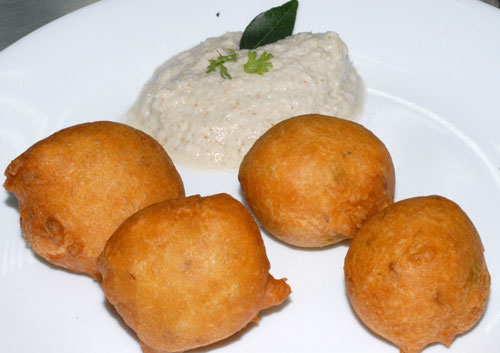 Mysore Bonda
is one of the most popular snacks originating from Mysore, Karnataka. It is also popular in
Andhra Pradesh
and commonly called as
Mysore bajji. Mysore bonda
is a lemon size dumpling made of all purpose flour (maida),
rice flour, cooking soda
and
buttermilk.
Mysore bonda is a healthy snack crunchy on the outer side and soft and spongy in the inner side of the
dumpling.
This is one of the traditional snacks from Mysore cuisine. The
Mysore bonda
can be eaten at
breakfast
time or as appetizer or snacks.
Mysore bonda
tastes good when served hot accompanied with
coconut chutney
.
If the
Mysore bondas
are served cold they become very soft, squishy and bland in taste.
Preparing the
Mysore bonda
is quite simple. Beat curd well and keep aside. Take a bowl, add the maida flour, rice flour, cooking soda and add
buttermilk
and mix into a vada batter consistency.
Add cumin seeds, fresh coconut pieces finely chopped, chopped green chillies
and mix in the batter and rest aside for
1 hou
r. Remember cooking soda when combined with an acidic ingredient such as
buttermilk
carbon dioxide is produced, which causes the dough or batter to rise.
This helps in making the batter fluffy to get the spongyness in the
Mysore bonda
. Heat oil in pan, just wet in palm and form small round bondas and fry them in hot oil on slow flame. If you cook it on high flame the outer casing would turn brown fast and the batter inside would not get cooked. Remove once they turn golden brown in color. Serve it hot with
coconut chutney
.
Vah! The flavor of the
cumin seeds, green chillies
and
fresh coconut
gets blended well in the batter and you get a nice spicy crunchy taste to the Mysore bondas.
Mysore bondas
can be eaten many but as this is deep fried dish dieter's to be cautioned.
Summary: Spongy dumplings of all purpose flour cooked in Mysore style
Ingredients:
coconut pices - 1 - tbsp
cooking soda - 1/2 - tsp
cumin seeds - 1 - tsp
ginger chopped - 1 - tsp
green chillis - 3 - number
maida - 1 - cup
oil - to fry - to fry
rice flour - 1/4 - cup
salt - to taste
water - 1 - cup
yoghurt(curd) - 1 - cup
Instructions:
Mix curd and water keep it a side.
Take a bowl add maida,rice flour,salt,soda mix well then add buttermilk make it into a vada batter consistancy.
Now add cumin seeds,coconut pices finely chopped, green chillis chopped mix well keep a side for 1 hr.
Heat oil to fry, make into small round bondas and put in to the oil, cook in a very slow flame.
Remove once it is golden brown colour.Serve it with coconut chutney
Cooking time (duration): 25
Diet type: Vegetarian
Number of servings (yield): 4
Meal type: breakfast
My rating: 5 stars: ★★★★★ 1 review(s)
Recipe by
Vahchef
.
Look for the cooking of Mysore bonda at: