Every thing about EASY GREEN CHILE CHICKEN ENCHILADAS | Vahrehvah :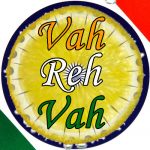 Green Chile Chicken Enchiladas is easy, super and delicious dish to delight your family and guests. This recipe has a variety of flavours with the taste of the tangy green chilli sauce and stuffed chewy corn tortillas. An incredible dish that would be a memorable one as it looks very attractive. Green Chile Chicken Enchiladas is a popular dish from the Mexican cuisine and like all good Mexican food; these chicken enchiladas are simple, earthy and delicious. Its heat depends on the tangy chilli sauce.
The dish is deliciously cheesy and creamy, corn tortillas excellently stuffed with a mix of cheese, chicken shreds, cumin powder, hot sauce and green chilli sauce before being rolled into flour tortillas spread over a tangy homemade green enchiladas sauce, topped with lots of cheese and are baked to golden perfection. These enchiladas are filling and ever so tasty.
The fresh cilantro on top is optional but adds a fantastic fresh pop of flavour to the entire dish. The variety of flavours blend together gorgeously lending a tangy tinge to the creamy cumin scented green chicken enchiladas. This makes a perfect set of humble and excellent mix of chicken and Monterey Jack cheese filled flour tortillas topped with green enchilada sauce.
An incredible yummy family dish which probably may not be considered as the healthiest meal, but the taste will certainly make you feel less guilty for indulging for more. Generally an enchilada is a corn tortilla rolled around a delicious filling and covered with chilli pepper sauce. It can be filled with a variety of ingredients including meat, cheese, beans, potatoes, mix vegetables, seafood or combination. It is said that the Enchiladas originated in Mexico, where the practice of rolling tortillas around other food dates back at least to Mayan times.
Traditionally, in their original form, enchilada was a Mexican street food that was simply corn tortillas dipped in chili sauce and eaten without fillings. It's now days that they have taken many varieties with distinguished sauces, fillings, toppings and garnishes. Generally the fillings include meat, such as chicken, beef or pork (spicy beef enchiladas), seafood, cheese, potatoes, vegetables, and any combination of these.
Enchiladas are commonly topped or garnished with cheese, sour cream, lettuce, olives, chopped onions, chili peppers, or fresh cilantro. There are many variations in making the enchiladas. Gravy style enchiladas are the dominant variety of enchilada found throughout South and Central Texas. These have a gravy-like chili sauce over either cheese-filled or beef-filled corn tortillas and are topped with a layer of cheese.
Stacked enchiladas, also called Enchiladas montadas is a New Mexico variation in which corn tortillas are fried flat until softened but not tough, then stacked with red or green sauce, chopped onion and shredded cheese between the layers and on top of the stack. Ground beef or chicken can be added to the filling, but meat is not traditional. The stack is often topped (montada) with a fried egg. Shredded lettuce and sliced black olives may be added as a garnish and served.
To prepare this super quick Green Chile Chicken Enchiladas, firstly fetch 1 rotisserie chicken or you can also use left-overs of chicken roast. Shred the chicken pieces and keep aside. In a large bowl, combine shredded chicken, 1 cup enchilada sauce, 8 oz. shredded cheese, 1 teaspoon cumin powder, 1 tsp salt and 2 tablespoon hot sauce and mix all the ingredients well and keep aside.
Heat a flat bottomed skillet over medium heat. Take 10 corn tortillas and lightly butter or oil both sides of the corn tortillas and cook, one at a time, for 30 to 45 seconds on each side, or until softened. Place 1/4 to 1/3 cup chicken filling down the centre of each tortilla and roll up.
Place in greased 9 x 13 inch baking pan seam side down. Spread some enchilada sauce in the bottom of the baking pan evenly spread and place the stuffed enchiladas over them in line and on pour the remaining enchilada sauce over the enchiladas and sprinkle with remaining cheese. Bake at 350 degree F for 30 minutes. Uncover for the last 5 minutes. Garnish with sour cream, if desired.
Do treat yourself to a rich Mexican culinary experience today and these green chile chicken enchiladas are great make-ahead food for any special occasion or party. Click on for detailed recipe:
https://www.vahrehvah.com/green-chile-chicken-recipe
Enjoy Cooking!