Every thing about CHICKEN FRIED RICE | Vahrehvah :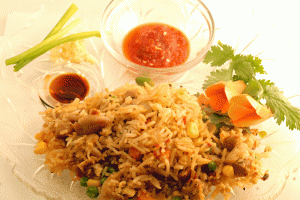 Chicken fried rice
is a very popular Chinese rice based dish. Here is another version of the
Chicken fried rice
in
Chinese style.
The
Chicken fried rice
is one of the signature dishes of
Indo Chinese cuisine
street food stalls and a popular and delicious dish liked by most of the kids.
This is one of the great recipes that can also be prepared with the leftover white rice or with freshly made rice.
Fried rice is a popular dish in the
Asian cuisine
especially
Chinese food.
The dish is made of rice stir fried in a wok with other ingredients such as
eggs, vegetables
and different types of
meats (chicken
and
shrimp
are the most popular) and spices/ sauces. Fried rice is a very common staple food in the
American
Chinese
and
Indo Chinese cuisine
especially available in the
fast food stands.
This dish is also a staple of
Chinese restaurants
and either served for both sit-in and for takeaways. The
fried rice
is popular
restaurant
and street food in the
West African
nations like the
Nigeria, Ghana
and
Togo.
The most common form of
fried rice
consists of some mixture of
eggs, scallions,
and
vegetables
, with chopped
meat
added at the customer's discretion. Home made fried rice is typically made with ingredients left over from other dishes leading to a countless variations. There are many popular varieties of fried rice, each with its own specific list of ingredients. In
Asia,
the more famous varieties include
Yangzhou
and
Fujian
fried rice.
Chinese restaurants
catering to
non-Chinese
clientele have invented their own varieties of fried rice including
egg fried rice, Singaporean
(spicy)
fried rice
and the
ubiquitous 'special fried rice'.
As
chicken
combined with rice and spices being so adaptable makes a terrific and simple recipe to prepare that the whole family will enjoy.
Chicken fried rice
is a versatile and classic dish and can be easily prepared adding your own personality to the dish. The
chicken fried rice tastes
great with a combination of different exotic
vegetables
and succulent pieces of fried
boneless chicken
that makes the dish luscious.
Chicken
fried rice is a classic and delicious
Asian
dish that calls for the meal to be cooked in a wok. There are many popular ways and versions of
cooking
this dish. Fried rice most likely originated in China and has slowing worked its way throughout the world.
Chicken fried rice
is a staple rice based dish popularly available in most of the
Chinese, Japanese
and Thai restaurants.
For preparing the
Chicken fried rice,
firstly wash and dice the
chicken
into small pieces and put it in a bowl. Add some
pepper powder, salt
and
corn flour
to the diced
chicken pieces
and mix well. Add half egg mix and keep aside. Now cook rice and keep in a separate bowl. Note that the rice needs to be cooked only 95%. Do not over cook the rice. It needs to be fluffy to make perfect chicken fried rice. Add oil in a pan or wok and heat the oil. Once the oil is heated add the diced
chicken
and
fry
them they are cooked and turned to a nice golden color. Once
cooked,
drain the
chicken pieces
from oil and shift to a plate.
In the same pan or wok, use only 1tsp of oil then add very finely
chopped garlic
and
ginger, saute
it for a min, add onion saute it, add
egg,
once it is cooked add
pepper, salt, ajinamoto, vegetables, vinegar, soya sauce, fried chicken, saute
it and lastly add
cooked rice
and mix well. Mix everything together in wok and continue stirring the mixture together until fully
cooked.
When adding the rice to the wok with the
sauces,
make sure the wok is heated enough to sufficiently fry the rice and absorb the flavors of the sauces into the rice. Lastly add some spring
onions
and
finish
it off. This tasty variation on fried rice is guaranteed to keep the hungry hordes happy. This is a quick and easy preparation. You just need to click and watch the recipe here:
Chicken Fried rice
Published On : Mar 5, 2008
Recipe Type : Rices
Standing Time : 5-8 mins
Ingredient : Chicken
Description : chicken fried rice
Recipe of
Ingredient Name
Unit
Quantity
ajinamoto salt

---

0

---

pinch

---

chopped ginger garlic

---

number

---

1

---

cooked rice( left ove rice works best)

---

cup

---

3

---

diced carrots

---

cup

---

1/4

---

diced Celery

---

cup

---

1/4

---

Diced chicken ( cooked)

---

cup

---

1/4

---

diced peas

---

cup

---

1/4

---

egg

---

number

---

1

---

green or red chilli sauce

---

tsp

---

1/2

---

oil

---

tbsp

---

1

---

pepper

---

0

---

as per taste

---

soya sauce

---

tsp

---

2

---

vinegar

---

to taste

---

---
Take chicken but cut into small pieces and wash.

Take a bowl add chicken,pepper,salt,cornflour and mix well and add half egg and keep it a side. Now cook rice and keep it a side see that its not cooked too much. Take a pan add oil to fry chicken, once chicken is cook transfer it to a plate, take the same pan but remove the oil, use only 1tsp of oil then add ginger,saute it for a min,add onion saute it,add egg, once it is cooked add pepper,salt,ajinamoto,vegetables,vinegar,soya sauce,chicken,saute it and lastly add cooked rice mix well. Lastly add some spring onions and finish it off.
chicken fried rice
chicken fried rice