Every thing about methi chaman recipe,chamagadda pulusu,methi chaman recipe restaurant. :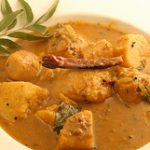 Arbi Chamagadda pulusu is a traditional dish of Andhra Pradesh where the Chamagadda (taro root) is cooked in a tamarind sauce, jaggery and spices. Chamagadda is also known as chama dumpa (in telugu), Arbi (Hindi) or the Colocasia (scientific name) and referred as Taro root.
Pulusu means "Puli".Tamarind sauce in which you can cook variety of dishes. Any vegetable can be used as the main ingredient to prepare a pulusu like the Pesaratu pulusu, Egg pulusu, Bhendakaaya pulusu (lady'sfinger pulusu) etc. Taro root is also called as Colcasia / Arbi/ Chammagadda /Chembu .A starchy, potato-like tuber with a brown, fibrous skin and gray-white (sometimes purple-tinged) flesh. Taro root may be prepared in a variety of ways including boiling, frying, baking or in Pulusu etc.
Arbi fry or Chamagadda vepudu is one of the most popular dishes cooked by many. Although rich in carbohydrates and a bit fattening, it is many people's favorite. This traditional dish is cooked almost everyday (in some homes it's a must dish) or frequently cooked during rainy and winter seasons as it's much easy to prepare with the available vegetables or just with lentils. Usually stews are accompanied with plain dal (mudda pappu, in Telugu), dry or semi dry curry (which is referred as vepudu in telugu) along with generous servings of ghee (clarified butter) is hearty and filling.
Taro root is a tropical plant grown primarily as a vegetable food for its edible corm and secondarily as a leaf vegetable. Both the leaves and roots are used a lot in Indian cooking. Famous dish made out of taro leaves in Northern part of India is Patra.
In Southern part of India the edible corm (root) is cooked (similar way other root vegetables are cooked, like potatoes with skin on) and then shallow fried and spiced up with chilli powder and salt. Taro root is little sticky and slippery after cooked, which is really suitable for gravy curries and stews. Chama dumpa or Chamagadda pulusu is a spicy stew spiced up with chillies and seasoning, sweetened by jaggery and caramelized onions, sourness of tamarind and tomatoes, while the sambar powder enhances its flavor.
Taro or Arbi has a slight nutty flavor, a flavor that is most definitely enhanced when served as a side dish to fish or broiled meats. In addition to being a useful side dish that compliments the main protein entrée, taro root packs a healthy load of nutrition in itself. High in fiber and low in calories, taro also provides protein as well as calcium and phosphorus to the diet. Taro root can be used in soups, baked or broiled with a variety of spices and other vegetables. The flavor of boiled or baked taro root is greatly enhanced with the saltiness of the main dish and for the diner seeking something different, this is worth a try.
Taro can even be made into a potato chip alternative. Taro root is a favorite of vegetarians and health conscious people for its flavor, health benefits, its uniqueness and digestibility where it is often fully a substitute for the more traditional rice or potatoes as a side dish.
To prepare this delectable dish, boil the arbi or taro root and cut them into medium size pieces after peeling them and keep them aside. Heat oil in a pan add dry red chillies, mustard seeds, little methi seeds and chopped onions. Saute them nicely till the onions are translucent.
Add salt, pinch of hing (asafetida), chopped green chillies, curry leaves (most important for this dish as it enhances the taste of the dish). Add turmeric powder, ginger garlic paste and fry them till the raw flavors are gone. Add some tamarind juice (add little first taste and then add more according to taste). Add some water, coriander powder, chilli powder, little coconut and poppy seed paste. Cover and cook for 10 minutes. When the froth on the top disappears, pulusu is ready.
Add little sugar. Add Arbi pieces and add little water to cover Arbi. Arbi will thicken the sauce later. If you are eating it after 1 hour, you can leave it a little less thick. Taste sauce and add salt, sugar according to your taste. This is important to get the best taste.
Eating it after 30 minutes makes it taste better. Serve it up with chapathi / roti or rice with a drop of ghee. Remember that you should not over cook the taro root otherwise it will become mushy and do not cut them into small pieces. Leave the sauce little thinner as it will become thick after it slightly cools down. Taro root, a starchy potato-like tuber is an excellent source of energy. It's very easy to cook. Hence do view the making of this delicious dish at:
Chamagadda pulusu is a simple recipe of Arbi cooked in tamarind sauce where the flavor of arbi (taro) is brought out well in this tangy gravy dish. The simplicity and flavor of this dish is accentuated by the distinct tamarind tang and subtle aroma of methi seeds and curry leaves. Taro is nutritious, and is an excellent source of potassium, which is an essential mineral for many bodily functions. Taro also contains some calcium, vitamin C, vitamin E and B vitamins, as well as magnesium, manganese and copper.