Every thing about methi chaman recipe,methi chaman recipe restaurant style,recipe for methi chaman :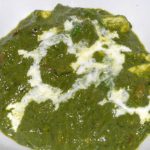 Methi chaman is a superb paneer (Indian cheese) dish combined with fenugreek and spinach greens gravy. A nice dark green in color, this dish can make most of you hungry once you start eating it. It almost reminds you of the popular palak paneer but tastes absolutely different and is a very rich dish.
Methi in Hindi is the known as the fenugreek leaves. It is a wonder herb either the greens or the seeds are a very popular spice and herb in the Indian cooking. Leafy green vegetables like spinach and fenugreek leaves have a delicate texture and jade green color which provides more nutrients than any other food. This is an amazing combination cooked with the Indian cottage cheese and spices. Methi Chaman is very simple dish easy to cook where fenugreek and spinach leaves are blanched and pureed.
Oil is tempered with cumin seeds and chopped onion nicely fried. Puree is then cooked in the oil along with few ground spices. Finally paneer and cream is added to the gravy to give richness to the dish. Fenugreek leaves adds flavor and zest to your cooking and you can add fenugreek leaves to any kind of cooking that involves dal, vegetable, rice, or roti (chapathi flour). Fenugreek green is a very popular curry cooked in the major sub-continental region of India and Pakistan, usually together with potatoes and/or spinach, and eaten with Roti or Naan (flatbread) and/or rice.
It is usually eaten boiled in China, and central and Western Asia. Major fenugreek producing countries are India, Pakistan, Bangladesh, Argentina, Egypt, France and China. India is the largest producer of the fenugreek in the world and northern states of India like the Rajasthan, Gujarat, Uttaranchal, Uttar Pradesh, Madhya Pradesh, Maharashtra and Punjab are the major producing states of fenugreek. Spinach is another wonderful green that originated in ancient Persia (modern Iran).
Arab traders carried spinach into India and later introduced into ancient China where it was known as "Persian vegetable". The earliest available record of the spinach plant was recorded in Chinese, stating that it was introduced into China via Nepal (probably in 647 AD).
To prepare this dish, firstly wash and blanch the methi (fenugreek) and palak (spinach) leaves thoroughly and blend to a coarse paste. Take a pan add oil, add whole garam masala, cumin seeds, chopped onion and fry them till the onions are golden brown color and then add crushed garlic, turmeric powder, ginger garlic paste, green chillies, butter and saute all the ingredients well it the raw flavors are gone. Add salt, the coarse paste of methi and palak, little sugar and mix well.
Add coriander powder, ginger powder and fry till the oil oozes out and cook in a slow flame. Add little water to get the required consistency, add cream and paneer cubes and cook for another 5 mins then garnish with freshly chopped coriander leaves.
The dish is ready to serve. Serve hot with roti, naan, chapati or it can also be just eaten like that. Truly a fantastic dish mildly spiced creamy rich in taste nutritious and healthy. A balanced diet for the kids! Methi with palak leaves and paneer with cream all together is highly nutritious and the leaves are highly valued with many nutrients and health benefits. Do prepare this dish at home and enjoy the taste. Watch the making of this dish at:
Fenugreek leaves and seeds are nature's gift to mankind. This wonder herb is rich in minerals like Potassium, Calcium, and Iron. The leaves have good dietary fiber and are abundant in Vitamin C and Vitamin K. Fenugreek leaves are cooling and relieve flatulence. It is also softening and soothing. Spinach has a high nutritional value and is extremely rich in antioxidants, especially when fresh, steamed, or quickly boiled. It is a rich source of vitamin A, vitamin C, vitamin E, calcium, folic acid and many more. Spinach, along with other green leafy vegetables, is considered to be a rich source of iron.