Every thing about MAHI PAKODA | Vahrehvah :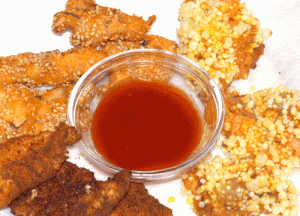 Mahi pakoda
are the famous dish of the
north Indian cuisine
which is the fish
pakoda
or pakora. It's one of the special and delicious
north Indian recipes
. Pakoras are traditionally
Punjabi
snacks and is mostly served in addition to vegetarian
samosa
during festive
snack
or occasions entertaining guests with exotic crispy
fritters
.
To prepare these yummy delicious fish pakora you can use any type of fresh water or salt water fish. The boneless fish fillets should be properly cleaned and thinly sliced into about 2" fillets. They are then marinated in a wet batter of gram flour and spices and deep fried till cooked and turns into a nice golden color.
Pakora
(deep-fried dough with vegetables), a wonderful evening snack and is typical representative of
Indian food style
. Pakora is a type of
Indian cuisine
created basically by deep-frying any ingredient such as
chicken
pieces, fish fillets, onion,
eggplant,
potato
,
spinach
,
cauliflower,
raw plantain
and chilli.
These are then dipped in a batter of gram flour and then fried.
Indian food
tends to accent carbohydrates and spices and de-emphasize protein, while with the common usage of legumes and
vegetables
it produces a unique combination. Pakoras are all time favorites of
Punjabi folks
and popular throughout the globe.
If you find yourself in a Punjabi household ( things happen) - you will be obliged to eat your fill and drink lots of tea - otherwise your hosts will be offended. But it is a really easy task - Indian food, especially Pakora is so delicious, that you will ask for more. And - why not try Pakora? Pakora is usually served as snacks or appetitizers.
They can be eaten as starters in restaurants.
Pakoras
are delicious served with mint or imli (tamarind) sauce - or both! Mahi Pakoda can be made in different variations. They are lovely and crisp golden brown spicy coated with either
sesame
seeds
or bread crumbs or crushed
sabudana
crispies on the outside side and a heavenly taste of spices.
Fish
Pakora are made from Fish slices that are dipped in a batter of spiced and salted
chickpea
flour
before being deep fried to a delicious golden and crisp texture.
To prepare the Mahi Pakora firstly clean the fish pieces well. In a mixing bowl, add some gram flour (besan flour), chilli powder (according to your taste for spiciness), very few pieces of ajwain, little ginger garlic paste, salt to taste, little baking powder (optional) and finely chopped coriander stems.
Mix all the ingredients well adding little water to form the
pakora
batter. Do not make it too thick batter. The fish fillets only need to be thinly coated. Mix the fish pieces into the batter and mix them well carefully. Take some
sesame
seeds
in a plate and put a piece of
fish
and coat it lightly with the sesame seeds and then drop it in hot oil and deep fry them.
Normally the fish are fried within 3 to 5 mins. Remove drain the oil off and put them on a paper towel and keep aside. Same ways fry all the other fish pieces. You can also use different coatings for varied flavors and taste like the breadcrumbs and take some
Sabudana crispies or papads
and crush them in your ding chik and coat the piece of fish and deep fry them.
The fish pakoras are ready to eat in three different flavors. Truly awesome, delicious and refreshing dish during monsoon season and is mostly enjoyed by all. Serve hot with sauce, lime and tangy mint
chutney
; it is a great accompaniment for an evening tea with friends. Try out this mouth-watering fish pakora recipe and enjoy one of the most exotic tastes from the
Punjabi cuisine.
Click at:https://www.vahrehvah.com/mahi-pakoda
Mahi Pakoda

Author :
Published On : Dec 13, 2007
Preparation Time:

30

min
Recipe Type : NonVeg-Main
Cooking Time :

25 min

Standing Time : 5-8 mins
Yield :

4 (4 servings)

Ingredient : Fish

Description : Mahi Pakoda Recipe made easy, learn how to make Mahi Pakoda Recipes at home.
Ingredient Name
Unit
Quantity
ajwain

---

pinch

---

1

---

baking pdr

---

number

---

1/4

---

beasan

---

tbsp

---

2

---

bread crumbs

---

cup

---

1/2

---

coriander leaves

---

springs

---

1

---

deboned fish pieces

---

grams

---

250

---

lime

---

number

---

1

---

oil

---

to fry

---

---

red chilli powder

---

tsp

---

1/2

---

sabudana papad

---

number

---

1

---

salt

---

to taste

---

---

sesame seeds

---

tsp

---

1

---

Clean the fish pieces
Mix all the ingredients
Marinate the fish pieces with the mixture
apply coating as desired
Deep fry till golden brown
Serve hot with sauce and lime