Every thing about HOT SPINACH AND ARTICHOKE DIP | Vahrehvah :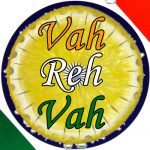 Hot Spinach and Artichoke Dip is a great accompaniment and a wonderful party favourite dish, easy and simple to make. This recipe is light with a nice mix of freshly chopped spinach and artichokes combined with lightly sautéed green onions, garlic flavoured with a pinch of nutmeg, black pepper and grated gruyere cheese and parmesan cheese to make a creamy mixture which is baked until bubbly and golden brown.
This hot spinach and artichoke dip goes excellently well with breads (generally baguettes) and crackers. This recipe is extremely incredible, so cheesy and fragrant, and is a light version as we have not used sour cream or mayonnaise in this dip. Makes a healthy dish! And if you don't really like artichokes – no worries as you will ever know they are in. It's easy to make ahead of time and refrigerate until about half an hour before serving.
Pop it in the oven, and it comes out all hot and bubbly. I mean, who doesn't love a yummy gooey bubbly melted golden cheese! You can also serve this amazing dip with Pretzel Crisps, but baked chips would also be great. Dips or dipping sauces are common and popular condiment for many types of food.
They add that extra flavour and texture to the food such as pita bread, dumplings, crackers, cut up raw vegetables, seafood, cubed pieces of meat and cheese, potato chips, tortilla chips, and falafel. Unlike other sauces that are applied or spread over, the food is typically dipped into the sauce hence the name dip or dipping sauce. Dips are commonly used with finger foods, appetizers and other easily held foods.
Dips having a thicker consistency are based on sour cream, crème fraiche, milk, yoghurt, mayonnaise, soft cheese or beans that are staple of American hors d'oeuvres and are thinner than spreads which can be thinned to make dips. Some of the popular made dips are Aioli (garlic version of mayonnaise), Baba ghanoush (Dip made from eggplant.
It is popular in the Eastern Mediterranean and parts of South Asia), Barbecue sauce (a common sauce either tomato or mustard based, often used for grilled and fried meats, and french fries), Chili oil (Used as a dipping sauce for meat and dim sum), Chocolate (dip for various fruits, doughnuts, profiteroles and marshmallows), Chutney (any of a wide variety of sauces with origins in the sub-continent of India such as coconut chutney, mint chutney etc., from freshly chopped herbs in yogurt, to bottled, spiced fruit mixtures.
Used with snacks like deep fried samosas and pakoras. In India and Sri Lanka, it is also commonly served with dosa and idli), Garlic Dip, Muhammara (a Near Eastern hot pepper and walnut dip), Avocado dip, Guacamole (a Mexican dip of avocados, onions and chili peppers, commonly eaten with tortilla chips), Hummus (a Levantine dip of ground chick peas and sesame tahini with spices and lemon juice) and many many more to the list.
Spinach is extremely a wonderful and versatile green leafy vegetable that can be added to any lentils, vegetables or meats and cooked. Spinach is thought to have originated in ancient Persia (modern Iran and neighbouring countries). Arab traders carried spinach into India, and then the plant was introduced into ancient China, where it was known as "Persian vegetable".
The earliest available record of the spinach plant was recorded in Chinese, stating it was introduced into China via Nepal (probably in 647 AD). Artichokes are extensively used in United States. They are either boiled or steamed until tender.
The core of the stem, which tastes like the artichoke heart, is edible once the stem's fibrous exterior has been removed. The thin leaves covering the choke are mostly edible. Leaves are often removed one at a time and the fleshy base part is eaten, sometimes dipped in hollandaise, vinegar, butter, mayonnaise, aioli, lemon juice, or other sauces.
To prepare the Hot Spinach and Artichoke Dip, firstly finely chop ½ cup green onions (white and light green parts only) and keep aside. Finely mince 2 cloves garlic. In a pan, add 2 tablespoon butter and when it becomes hot, add the green onion and garlic and sweat them out well till you get a nice aroma.
Remove from flame and keep aside. In a medium bowl, mix together 1 package (10 ounce) frozen chopped spinach, thawed, drained, squeezed dry, 1 can (14 ounce) artichoke hearts, drained, roughly chopped, 8 ounces cream cheese, 1/4 teaspoon hot sauce, very small pinch of nutmeg, salt and fresh ground black pepper to taste, 1/2 cup grated gruyere cheese, and 1/2 cup grated Parmesan cheese, preferably Parmigiano Reggiano .
Gently stir all ingredients to make a smooth mixture. Preheat oven to 350 degrees F (175 degrees C). Transfer the above mixture in ramekin bowls, top with mozzarella cheese and bake for about 25 minutes until bubbly and lightly browned.
Serve with crackers, tortilla chips, or toasted rustic bread. Spinach has a high nutritional value and is extremely rich in antioxidants, especially when fresh, steamed, or quickly boiled. It is a rich source of vitamin A (and especially high in lutein), vitamin C, vitamin E, vitamin K, magnesium, manganese, folate, betaine, iron, vitamin B2, calcium, potassium, vitamin B6, folic acid, copper, protein, phosphorus, zinc, niacin, selenium and omega-3 fatty acids.
Hot Spinach Artichoke Dip is a rich, creamy, cheesy, not greasy dip. Do give this recipe a try; your kids will surely love eating it.
Enjoy Cooking!