Every thing about SWEET POTATO POLI ROTI | Vahrehvah :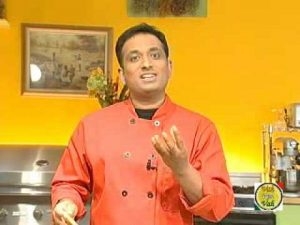 India
is well known for it traditional myriad flatbreads like the roti's,
paratha
,
naan's
, kulchas and so on.
Sweet potato poli roti is
one such popular
Indian
dessert
that's similar to the puran poli and made with a different stuffing made of sweet potatoes and jaggery. Normally puran poli is a sweet roti made of channa dal (lentils) and jaggery mixture stuffed and formed into a roti and fried on a griddle or tawa.
This is one of the most popular and traditional dish of
Maharashtra
,
Gujarat
and South India as commonly called as puran poli, obbattu, hollige,
bobbattlu
or
Bhakshalu.
Poli is a dessert served during auspicious occasions and during important festivals such as
Holi, Padwa, Ugadi.
Although it resembles a roti, a Poli is actually very different.
The making of the Poli begins with preparing the stuffing. Although each one (the
Indian
flatbreads) is unique in its own right, I have to say that the
Sweet Potato Rotis
are one of the yummiest ever. They are moist, delightfully chewy and taste heavenly.
Puran Poli
is a traditional
South Indian
sweet, often prepared on Sankranti and Holi.
Gujratis
(Gujju) makes this same dish with either
Toor dal
or
Chana Daal,
sugar, cardamom and nutmeg powder. You can make a variety of stuffing for the puran poli. Some also stuff the poli with
sooji halwa
or coconut and jaggery or sesame seeds and
jaggery
etc. In the
Indian
state
of
Maharashtra
and some parts of
Gujarat,
poli and
bhakri
denote unleavened
Indian breads
.
Apart from the
south India, Maharashtra,
the central
Indian
state is very famous for this unleavened flat bread called the poli which is also the staple dish in the
Maharashtrian
cuisine.
Puran poli and tilgul, a sweet stuffed with
jaggery
(unrefined sugar; also called
gul
) and ground sesame seeds (
til
) is especially made at one of the few annual
Indian
solar (as opposed to lunar) holidays,
Makar Sankranti,
celebrated on the
14th
or
15th
of
January.
Traditionally, people wish each other
Tilgul ghya goad bola
("Enjoy
gulachi poli
and speak sweetly") to encourage good relationships. Sweet
potatoes
are high in beta carotene, fibrous and nutritious
vegetable.
The soft nature of this
paratha,
makes it's a great
snack
for children. It can also make a great lunch box. Serve it with a
vegetable,
a pickle, some honey, or just have it plain, they are a good for a healthy meal.
The sweet
potato
is one of the unique
vegetables
that has its own sweetness with extra flavor and can also be eaten just boiled and mixed with some
honey.
Not only do they taste like
dessert,
but they provide some surprising health benefits. One difficulty in describing the health benefits of sweet
potatoes
is knowing where to begin. There are a surprising number of nutrient categories responsible for the health benefits of this underappreciated tuber.
Among these categories are antioxidants, anti-inflammatory nutrients, and blood sugar-regulating nutrients. Each category brings with it valuable
health benefits. Sweet
potatoes
also include storage proteins called sporamins that have unique antioxidant properties.
Sweet
potatoes
are an excellent source of
vitamin
A
(in the form of beta-carotene). They are also a very good source of
vitamin
C
and
manganese.
In addition,
sweet
potatoes
are a good source of copper, dietary fiber,
vitamin B6, potassium
and
iron.
During Shivarathri festival, people offer sweet potato to the God and is eaten by all those who fast on that day. They also break their fast by preparing the sweet potato roti or eith eat it by mixing some melted butter over it which tastes good and yummy.
To prepare the Sweet potato poli,
Take a pan add sweet potato and add water. Cook till the
potatoes
are boiled or you can also use a pressure cooker. Once it is boiled remove the skin and cut into small pieces and mash it well. In another bowl add maida, sooji, rice flour, salt,
ghee,
mix well and add water make into soft dough and keep a side for 30min.
In a pan add the
mashed potato
,
switch on the flame add sugar mix well cook for 5 min to 10min once it is done keep aside till it cools down, then add cardamom powder mix well.
You can also add
jaggery
instead of sugar. Now take the dough and double the quantity of
potato
mixture, stuff make a poori size chapati and cook both the side with ghee. Serve hot with dollops of ghee.
Do watch the making of Sweet potato poli and give your kids a nutritious meal! Do try this out at:
https://www.vahrehvah.com/sweet-potato-roti-poli
Sweet Potato Roti poli
Author : Admin
Published On : Mar 7, 2010
Recipe Type : Desserts/Sweets
Standing Time : 5-8 mins
Ingredient : Sweet Potato
Recipe of
Ingredient Name
Unit
Quantity
cardomom powder

---

tsp

---

1/2

---

ghee

---

---

as needed

---

maida

---

cup

---

1

---

rice flour

---

tbsp

---

1

---

salt

---

---

pinch

---

Sooji / Rava

---

tbsp

---

1

---

sugar

---

grams

---

150

---

sweet potato

---

lbs

---

1

---
Take a pan add sweet potato add water cook till potato's are boiled,or u can use presure cooker. once it is boiled remove the skin and cut into small pieces and mash it. In another bowl add maida,rice flour,salt,ghee,rava mix well and add water make into a soft dough and keep a side for 30min In a pan add the mashed potato, switch on the flame add sugar mix well cook for 5 min to 10min once it is done keep a side till it cools down, then add cardomom powder mix well. Now take the dough and double the quantily of potatomixture, stuff make a poori size chapati and cook both the side with ghee. serve hot