Every thing about SHEERMAL SWEET MILK BREAD | Vahrehvah :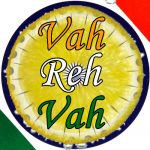 Sheermal sweet milk bread is a sweetened naan made of Maida (all purpose flour), leavened with yeast and baked in tandoor or oven. Traditionally Sheermal is leavened bread baked in tandoor or oven similar to roti. It is sweet bread accompanied with rich and filling aromatic korma gravies (gravied chicken or mutton). Nowadays Sheermal sweet milk bread is made like Naan and resembles Danish pastry.
The warm water for preparing the roti is replaced with warm milk sweetened with sugar and flavored with saffron. Sheermal sweet milk bread is soft sweet bread awesome and tasty to eat. Sheermal or Shirmal is an authentic saffron flavored traditional flatbread popularly made in Iran, Pakistan, Hyderabad and Lucknow region of India. It is said that the Sheermal is probably from Persian influence.
Sheermal is one of the several rare delicacies from Lucknow in India and is also part of the Awadhi cuisine. Awadhi cuisine is popular in the city of Lucknow which is the capital of Uttar Pradesh state in Northern India and the cooking patterns are very similar to those of Central Asia and Middle East. The cuisine consists of an array of both vegetarian and non-vegetarian dishes. Awadhi cuisine has been greatly influenced by the Mughal cooking techniques this cuisine bears similarities to those of Kashmir, Punjab and Hyderabad; these cities mainly famous for its Nawabi foods.
The Awadhi cuisine gave birth to the dum style of cooking or the art of cooking over slow fire which has become synonymous with Lucknow today. Their spread would consist of elaborate dishes like kebabs, kormas, biryani, kaliya, nahari-kulchas, zarda, sheermal, roomali rotis and warqi parathas. The richness of Awadh cuisine lies not only in the variety of cuisine but also in the ingredients used like mutton, paneer, and rich spices including cardamom and saffron. Indians use a variety of flours like the maida, wheat, rice, millet, lentils, chickpeas, maize and semolina in preparing a variety of Indian flat bread and dishes.
Maida is softer general purpose flour (also commonly known as all purpose flour) and is highly refined flour. It can be used for making roti and parathas and this gives a much softer result than the traditional atta flour, but it is a must for making naan bread. Maida is also usually used in preparing the pooris as well. In India maida is always used to make pastries and sweeter breads such as Sheermal, a sweet milk bread, or Baqerkhani, a layered bread like rough puff pastry - both from Kashmir.
Baqerkhani is a naan which is an elaborate variation of the sheer-maal except that it is fried on a griddle rather than baked in a tandoor. For preparing the delicious Sheermal Sweet milk bread, firstly soak saffron strands in about 2 tablespoons of warm milk and set aside. Sift together the flour (all purpose flour) and salt. Sprinkle some sugar in and mix. In a large bowl, add the melted clarified butter or oil. Run in clarified butter or oil with finger until evenly distributed. Add the whole milk little at a time and knead to soft dough.
When it forms a soft smooth lump, cover dough with a moist cloth and set aside for 2 hours. And knead again and set aside again for another 2 hours. Knead again and then divide flour into 7 parts. Rub saffron strands in milk with fingers to dissolve well. Place an inverted heavy iron pan or lower shelf of oven. Keep the grill on upper rack. Preheat the oven to 250 degree Centigrade.
Use dry flour for dusting while rolling the flour. Roll to thick round shape about 6" in diameter. Prick with fork all over and slap onto the base of the pan. Allow to bake until brown spots appear and move to grill with tongs. Dip finger in saffron milk and splash on Sheermals. Keep in oven for few more seconds or bake in traditional tandoor or in inverted pressure cooker.
Remove and serve hot or wrap in slightly moist towel to collect. Apply butter or ghee on top if desired. Sheermal sweet milk bread are lovely sweet breads which is a kind of doughnutty taste bake and taste yum and delicious. Do try this recipe and enjoy the taste of Sheermal sweet milk bread. Click on the link for detailed recipe:
https://www.vahrehvah.com/sheermal-sweet-milk-bread-recipe
Sheermal sweet milk bread is best served with Lucknowi Kababs and can even be relished stand alone. It is sometimes also combined along with Nihari. Gastronomically sophisticated, the Nawabs of Lucknow considered the skillful preparation of food an art form.
Today Lucknow is known for Awadhi cuisine with its rich, spicy meat dishes, the most famous of which is Nihari (meat stew). Melt-in-the-mouth kebabs, biryanis, and tandoori chicken items are particularly favored, and cream, saffron, raisins, cashews, and almonds are all commonly used. A popular dessert is the royal bread-and-reduced-milk pudding, Shahi Tukda and amazing kulchas (flaky pan bread), and finish with sheermal (milk bread) - soft, buttery, and sweet.