Every thing about ARBI VADAI | Vahrehvah :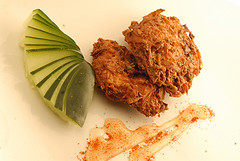 Arbi Vadai
, something really innovative and rarely heard dish.
Arbi
means taro root a common name for the corms and tubers.
Taro root (Chaama Dumpalu
in
Telugu)
is a starchy tuber
vegetable
like
potato
but has nutty-like flavor when cooked. Normally in India you must have heard common dishes like the
chaama dumpa vepudu
(fry) make a satisfying and nutritious side dish when served with
rice
and
dal/ sambar/ rasam
or
yogbbbburt
combination and Taro
korma
an
Indian vegetable curry.
The spicy gravy contains fried onion paste and yogurt and is flavored with
ginger-garlic
paste as well as several Indian spices.
Arbi Vadai
is truly a
great snack,
yummy and delicious As such kids love eating
Arbi fry
and they would surely like this spicy crispy variation too. The preparation for making
Arbi vadai
is quite easy and simple. Take the arbi and peel the skin. Grate the
arbies,
add the
grated paneer
to the grated arbies. Add grated onion (squeeze off the extra water from it),
chopped curry leaves, red chilli flakes
or
red chilli powder.
Take little baking powder and mix it with all purpose flour (maida) and mix this flour to the grated arbi mixture. Add salt and mix it well to make
vada
mixture. If you are an
egg
eater than you can add half the
egg
and this helps to fry the arbi from absorbing less oil. Heat the oil in a deep frying pan and drop the arbi mixture in
vada
shape in the oil and fry it till golden brown color.
Fry these vadas in medium heat for little longer time so that the
vadas
will come out crispy. Taro is most widely cultivated and native to
Southeast Asia.
Have originated in the
Indo-Malayan region, perhaps
in
Eastern India
and
Bangladesh
and
spread Eastwar5d
into Southeast
Asia
and
Eastern Asia.
The plant is inedible when raw and considered toxic due to the presence of
calcium oxalate crystals, typically
as raphides. The
toxin
is minimized by cooking,
especially
with a pinch of
baking soda.
It can also be reduced by steeping
taro roots
in cold water overnight. The taro roots are
roasted, baked
or
boiled
and the
natural sugars
releasing a
sweet nutty flavour.
The leaves of the corm plants are a
good source of vitamins
A
and
C
and contain more
protein
than the corms. In
North India,
Taro is a very common dish served with or without gravy;
Arvi Gosht,
a popular dish which includes
lamb
or
mutton.
The
leaves
are rolled along with gram flour batter and then
fried
or
steamed
to make a dish called
Pakoda
which is finshed by tempering with
red chillies
and
carrom
(ajwain) seeds. In
South India
,
the state of
Karnataka Arbi
is made like
fritters
or
steamed
and used as a
morning breakfast
dish.
In
Kerala,
taro corms are known as
chembu-kizhangu.
It is used as a staple food, as a side dish, or as an
ingredient
in various side dishes like
sambar.
In other
Indian states like Tamil Nadu
&
Andhra Pradesh,
taro corms are known as
sivapan-kizhangu, chamagadda
or in coastal
Andhra districts
as
chaama dumpa
in
Telugu,
and can be cooked in many ways, deep fried in oil for a side item with rice, or cooked in a tangy
tamarind sauce
with
spices, onion
and
tomato. Taro root
can be a great addition to a meal to make it heartier and healthier.
Taro root
is often substituted for a
potato
in many recipes; at it is also a
starchy vegetable.
There are
multiple nutritional benefits
to the taro root, including the caloric content and the fiber content. Taro root is great for those who are trying to watch their fat intake. One serving of
taro root
has only .
1 g
of fat per serving. Taro is high in beneficial nutrients, such as dietary fiber.
Dietary fiber is great for the digestive system, as it helps to speed up the process and make the system regular. It can also help to lower
cholesterol. Taro
is high in a few vitamins that are important for the body like the
vitamin
C
, E a
nd
vitamin
B6
. To determine whether a taro root is suitable for use, make sure that the root is firm to the touch, and has hairy roots.
Once you have selected your roots, you can store them in your home for up to one week provided that the roots are stored in a cool and dry location, preferably at approximately 50ºF. Additionally, when storing taro roots, make sure that the roots do not dry out. Because of its diversity, the taro root vegetable can easily be used as a healthy alternative to potatoes and other tubers.
Arbi Vadai
is must try snack and kids would love the
crispy, nutty flavor
of the
arbi
and the softness of
paneer combines
with
chilli flakes
and other spices. Vah! It's a appetizing snack to eat during the raining season or winter to beat the cold. The
Arbi vadai
goes very well with Bisi bele bath.
Summary: raw Arbi (taro root) grated and fried crispy
Ingredients:
onion grated - 1 - medium
maid -1 -tsp
red chilli flakes or red chilli pwdr - 1 - tsp
baking pwdr - 1/2 - tsp
curry leaves - 3 to 4 -chopped
Arbi 5 nos. (also called taro root) - 5 - number
egg (optional)
Grated paneer - 2 - tblsp
oil for frying - 1 - to fry
salt - 1 - to taste
Instructions;
DIRECTION:- Take the arbi and remove the skin.grate the arbies,add the grated paneer, grated onion,chopped curry leaves,red chillie paste. take the baking powder and mix it with the maida or all purpose flour,add it to the arbi,add salt and mix it to make a vada mixture. If you eat egg just beat half the egg and add it helps to fry the arbi absorbing less oil. Heat the oil and drop the arbi mixture in vada shape in the oil and fry it. fry these vadas in medium heat for little longer time so that the vadas will come out many crispy.
Cooking time (duration): 25
Diet type: Vegetarian
Number of servings (yield): 4
Meal type: snack
My rating: 5 stars: ★★★★★ 1 review(s)
Check out this video at:
https://www.vahrehvah.com/arbi-vadai