Every thing about MAYONNAISE | Vahrehvah :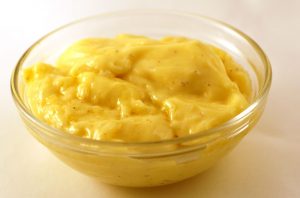 Mayonnaise
is a base for many other
chilled sauces
and
salad
dressings. Basically
Mayonnaise is an emulsion of oil,
egg yolk and either
vinegar
or
lemon juice,
with other herbs and spices. Lecithin in the
egg yolk
is the emulsifier. It forms a thick creamy texture. Other common ingredients used in
mayonnaise
are
mustard powder
and
olive oil.
A number of other
sauces
can be created from it with addition of various
herbs, spices,
and
finely chopped pickles.
Where
mustard
is used, it is also an emulsifier. In
1756, mayonnaise
was invented in
France by Duke
de
Richelieu's chief.
In
1905,
the
first ready-made mayonnaise
was sold at
Richard
Hellman's New York deli.
In
1912, mayonnaise
was mass marketed and called
"Hellman's Blue Ribbon Mayonnaise."
Some say that a
mayonnaise-like
mixture of
olive oil
and
egg
can be traced back to
Roman times,
or even to early
Egyptian culture.
However,
mayonnaise
as we know it seems to have been developed in
France.
The
French Larousse Gastronomique 1961 suggests: "Mayonnaise,
in our view, is a popular corruption of
moyeunaise,
derived from the very old
French
word moyeu, which means
yolk of egg."
The sauce may have been christened mayennaise after Charles de Lorraine, duke of Mayenne, because he took the time to finish his
meal of chicken
with cold sauce before being defeated in the Battle of Arques.
Mayonnaise
can be made at home with a mortar and pestle, whisk or fork, or with the help of an electric mixer, or an electric blender. Mayonnaise is made by slowly adding oil to an
egg yolk,
while whisking vigorously to disperse the oil. The oil and the water in yolks form a base of the emulsion, while the lecithin from the yolks is the emulsifier that stabilizes it.
Additionally add a bit of
black pepper
and
mustard powder
to
sharpen
its
taste,
and
further stabilize
the
emulsion. Mustard contains
small amounts of
lecithin.
It is a process that
requires
watching; if the liquid starts to
separate
or
curdles
then it simply requires starting again with an
egg yolk
, whisk
it,
slowly
add the
cur-deled
while
whisking,
and it will emulsify to be
mayonnaise.
Use only the
salad oil, olive oil
or
corn oil.
Remember it is essential to beat the
mayonnaise
using a whisk while adding the
olive oil
a little, (e.g. a teaspoon) at a time, then it is possible to add the oil more quickly while briskly whisking to incorporate the oil into the
emulsion.
If there are two people in the kitchen, one person can slowly pour the oil while the other does the whisking. Herbs and spices can be added at any stage.
Mayonnaise
is commonly served in a
sandwich,
or with
salad
such as
potato salad
or
tuna salad
.
Since homemade
mayonnaise
is uncooked, be sure to use the
freshest eggs possible,
and ones that you are reasonably sure are free from
salmonella
.
Homemade
mayonnaise
will last three to four days in the refrigerator.
Mayonnaise
has got few nutritional benefits and is a natural source of
vitamin
E
, which is considered to be highly beneficial for postmenopausal women, as it protects them from strokes. Mayonnaise is also known to reduce the risk of heart diseases in women. Most
mayonnaise
recipes are prepared from
omega-3 fatty acids, people
consuming
mayonnaise
are said to show reduced sudden deaths, resulting from heart attacks. Researches indicate mayonnaise to be highly useful in successfully treating depression, arthritis and colon inflammation.
Summary: All time favourite dipping for any kind of bread/salads. recipe by tamrapalli
Ingredients:
egg yolk - 2 - number
lime juice - 1/2 - number
mustard pdr - 1 - pinch
pepper pdr - 1 - pinch
salt - 1 - to taste
sugar (optional) -1 - to taste
vinegar - 1 - tbsp
Instructions:
In a bowl seperate eggs yolk & egg white.
Add mustard powder,pepper powder,lemon juice,vinegar & salt to the egg yolk.Whisk it well .
Slowly add oil & contiue whisking the egg yolk. [Note:- continuous stirring will avoid curdling to take place]
Thick mayonnaise is ready. Alternative to curdled mayonnaise :- Use the curdled mixture in another bowl use this in place of oil for fresh egg yolks. Continuous whisking is the key to get thick mayonnaise.
Cooking time (duration): 25
Number of servings (yield): 4
Meal type: snack
My rating: 5 stars: ★★★★★ 1 review(s)
Recipe by
Vahchef
.
Few important tips that you require to know while preparing the Mayonnaise are: Mayonnaise is prepared by combining egg yolks with vinegar or lemon juice. The egg yolks so added bind the ingredients, thereby preventing them from getting separated. While whisking vigorously, oil is added drop by drop. Once the mixture starts thickening, the remaining oil is added quickly. Homemade Mayonnaise can be stored in the refrigerator for 3 to 4 days. Aioli is another variant of mayonnaise that includes garlic flavors.