Every thing about MURUKULU JANTHIKULU | Vahrehvah :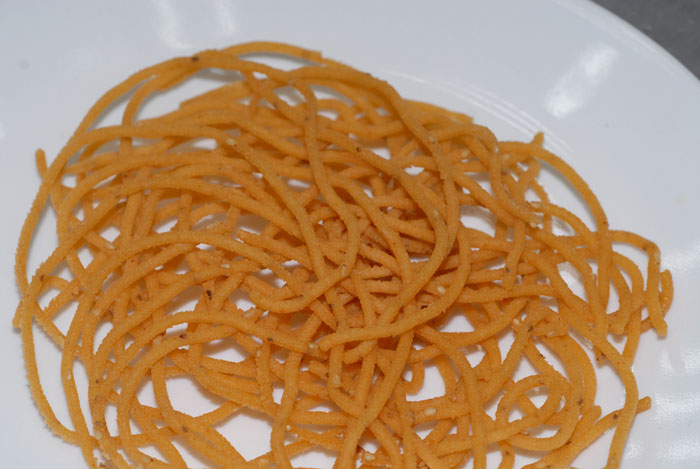 Murukulu
also known as
Janthikulu
is a very popular savory
snack
of the South Indian cuisine. Murukku is traditionally combined with a mixture of urad dal powder, rice flour, salt, chilli powder, ajwain, cumin seeds. These savory snacks like the
Murukulu, Janthikulu,
chegodi or
Chakli
are popularly known as
Pindivantalu
(festival delicacies prepared with flours) in Telugu.
Janthikulu
is a famous
Andhra speciality
prepared during
Sankranti
and
Diwali festivals.
They are normally eaten as time pass snacks served with
hot tea
. Murukulu are made by frying the
urad dal
to a golden color. Powder the
dal, mix rice flour
to it.
Add sesame seeds, ajwain
, salt and chilli powder. Add butter to it and mix it well. Add little water and mix to form a soft dough. Now take the murukulu press put a ball of dough into it and press on top into the
hot
oil. Press it in circular motion to form the murukulu. Fry in medium flame till light golden brown color and remove.
The
deep frying
needs to be done on medium flame to ensure evenness in cooking,
crispness
and to achieve that golden shade. You can also store them in airtight boxes as they will stay for many days. The
murukkus
are kept in airtight boxes to retain their crispness. It is said that a nice murukulu is that which makes a
krum karum
sound when they are munched.
These irresistable munchies can be eaten anytime as snacks. There are many variations in preparing the Janthikalu. You can replace butter with hot ghee or mashed potatoes. Each of these gives their unique flavor to the Janthikalu. Olden days, grandparents say that the Murukkus are good for children because, as you eat, it makes the gums stronger.
Summary: snack made of rice flour and urad dal flour
Ingredients:
butter - 1 -tbsp
chilli powder - 1 tsp
Oil - 0 - to fry
rice flour - 4 - cup
salt - 0 -as needed
sesame seeds -1 - tbsp
Urad Dal - 1 - cup
water - 0 - as needed
Instructions:
Take a pan dry roast urad dal and make into a powder.
In a bowl add rice flour,urad dal,sesame seeds,ajwane,salt,chilli powder,butter, mix well and add water as need.
Make into a soft dough.
Now take the murukulu press add the dough into it and press on top into the oil and make a round.
Fry till light golden brown colour then remove.
Cooking time (duration): 25
Diet type: Vegetarian
Number of servings (yield): 4
Meal type: snack
My rating: 5 stars: ★★★★★ 1 review(s)
Recipe by
Vahchef
.
Another variation is the besan with roasted chickpeas (dalia) powder. The murukkus can be of any size and shape. It's a nice snack to binge on during evening time. Murukku is traditionally enjoyed as a treat on the Diwali and Sankranti holidays. Murukku is nutritious also because it is prepared with Urad dal and rice. Urad dal has black skin outer while inside is creamy white. This white lentil is rich in protein and iron content is good for improving hemoglobin count. It is nutritious and recommended for diabetic`s too.
Do learn this recipe and help in keeping your children's gums strong!