Every thing about Bottle Gourd Curry With Sesame Seeds | Vahrehvah :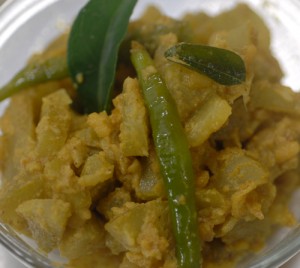 Bottle gourd curry with sesame seeds
is a very healthy, delicious, good low fat and nutritious recipe. The recipe is high in iron and calcium nutritive values.
Bottle gourd
is a very popular
Indian vegetable
mostly grown in summer months. It is also commonly called as
Lauki, doodhi
or
ghia.
It is a yellowish green color having the shape of a bottle. It contains white pulp with white seeds embedded in spongy flesh. What makes
Bottle gourd
most popular is that it is easily digestible and fast to prepare. The
bottle gourd
easily grows in warm and humid climate and seems to have originated in
India
and
Africa.
Summary: sesame seeds are rich in Iron they taste excellent with bottle gourd
Ingredients:
Ingredient Name
Unit
Quantity
bottle gourd

---

cup

---

1

---

coconut powder

---

tbsp

---

1

---

coriander powder

---

tsp

---

1/2

---

curry leaves

---

springs

---

1

---

Ginger garlic paste

---

tsp

---

1/2

---

green chillies

---

number

---

4

---

oil

---

tbsp

---

1

---

onion

---

number

---

1

---

sesame seeds

---

tbsp

---

1

---

Turmeric

---

0

---

pinch

---

urad dal

---

tsp

---

1

---

water

---

0

---

as needed

---
Instructions:
Take a pan heat it add sesame seed dry roast till golden brown colour optional coconut powder grind into a corse powder.Take a pan heat oil, add urad dal, onions chopped,salt saute it then add green chillies, turmuric, ginger garlic paste, curry leaves saute it then add small pices of bottlegourd and mix well add some water and close it with a lid.cook the bottle gourd till it is 80% done then add the sesame seeds powder, coriander powder saute it again and cook for another 3 -4 min.
Cooking time (duration): 25
Diet type: Vegetarian
Number of servings (yield): 4
Meal type: lunch
My rating: 4 stars: ★★★★☆ 1 review(s)
Bottle gourd is a wonderful cooling vegetable that can really help fight the hot summer months. The fresh bottle gourd juice has been traditionally used for many years for treating many bodily disorders. There are various ways in which this vegetable can be prepared as part of your diet. Bottle gourd as such is a very bland vegetable and when cooked with lightly roasted sesame seeds powder, it enhances the flavor of the vegetable and gives a nut-like taste and adds a delightful crunchy flavor to the dish.
White sesame seeds are extremely rich in calcium and are useful in all cases of calcium deficiency. The cooked vegetable has a cooling, diuretic, relaxing and anti-bilious effect on the body. It contains almost 96% moisture and is rich in calcium, phosphorous, iron and dietary fibers. It also contains vitamin C.
The dietary fiber present in the bottle gourd makes it a very useful vegetable in preventing digestive disorders such as constipation, flatulence etc. Since this dish is easily digestible, highly recommended for people with digestive problems, diabetes and if you are on a low calorie diet try this recipe out.
So, if you are looking to add a vegetable belonging to the gourd family in your regular diet, why not choose the bottle gourd with sesame seeds curry. Other popular recipes prepared with Bottle gourd are : Dudhi Theplas, Lauki ki Yakhni, Sorakaya pachadi, Bottle gourd kootu, Bottle gourd sambar, Lauki ka kofta, and Bottle gourd fry.
We can also prepare healthy and very refreshing desserts with Bottle gourd like the Bottle gourd or Lauki or Doodhi ka halwa (Though the name sounds unusual, this dessert is yummy and delicious) and the popular Kaddu ki kheer, a very special Hyderabadi sweet dish served during feasts or occassions.