Every thing about Kul Kul – Airfryer Recipe | Vahrehvah :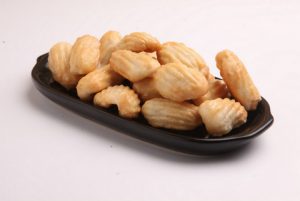 This is a easy and simply sweet snack Goa recipe. Kul Kul is a very popular and traditional Indian sweet delicacy which is often prepared during Christmas as goodies. Traditionally made Kalkals are deep fried pastry made combining flour, eggs, coconut milk or milk which is either rolled in powdered sugar or coated with sugar syrup. There are various variations in making the kalkals.
Kul Kuls are commonly known as Gavvalu in Andhra Pradesh which means Shells. As they are prepared in shell shape, hence derived the name gavvalu. These Kul Kuls can be eaten during snack time and best for kids. It is one of the awesome time pass snack.
The shape, texture and taste also fascinate kids. These Kul Kuls are generally prepared a week before and stored in air tight containers especially to be distributed during festivals. They are a sort of sweet candies and in the state of Goa they are also prepared in different colors to look attractive.
Recipe: Kul Kul – Airfryer Recipe
Ingredients:
All-purpose flour - 2 cups
Ghee - 2 tbsp
Salt - pinch
Milk - 150 ml
Sugar syrup - 1 cup
Directions:
Add all-purpose flour, pinch of salt, ghee and mix the ingredients in short-crust method.
Add milk and mix to make medium stiff dough. Cover and rest the dough for about 5 minutes.
Divide the dough into small portions, roll, take a fork and turn it around.
Take small portions of the dough and press it on the back side of the fork and remove towards the opposite direction to form shell shape dough.
Repeat the same with the remaining dough and keep the shells aside.
Preheat the airfryer at 180 degree C for 3-4 minutes.
Remove the basket and arrange the shells in the basket and close.
Airfry these shells at 180 degree C for 7-8 minutes.
Make sugar syrup which should be soft ball consistency.
Remove the air-fried Kul Kuls onto a plate and keep aside.
Drop the kul kuls into the sugar syrup and toss until they are coated well.
Remove the kul kuls onto a plate and allow them to dry.
Here I would be show casing on how to prepare Kul Kuls in the air fryer. This is fast to cook, fat free, mess-free yet very delicious to taste. Making these air-fried Kul Kuls is very easy. All-purpose flour is combined with little salt and ghee and mixed in short crust method adding little milk. Small amounts of dough is pressed over a fork and rolled to get a shell shape.
All the Kul Kuls are air fried for just about 7-8 minutes, removed and dropped into hot sugar sugar. After few minutes, they are removed, cooled and are ready to serve. It's absolutely fun making these Kul Kuls and you could also involve you kids, friends for shaping the Kalkals. It will obviously be a fun activity plus your work would get faster and easier.
Air fried Kul Kuls have slightly crusty exterior and soft inside. On bite they just melt in your mouth and will surely feel like grabbing more. To try more favourite sweet recipes, do click on: www.vahrehvah.com
My rating: 4 stars: ★★★★☆ 1 review(s)
You could always reach me at my below links:
Enjoy Cooking and always remember that: "VahrehVah is all about inspiring others to cook"!