Every thing about KANDI PODI | Vahrehvah :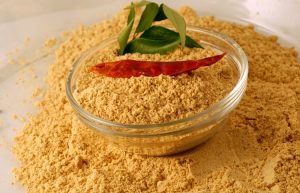 Kandi podi
a classic
Andhra recipe
which is actually a flavorsome,
protein
packed lentil spiced powder. South Indian cuisine is popular for its variety of
gun powders
where Kandi podi is one among the most wanted ones. Kandi podi is not a very
spicy powder
like the other milagai podi but is prepared of dry roasted dals (lentils) with other spices to give a nice aromatic fragrance and delicious to eat with plain rice and
ghee
(clarified butter). A dish that is available in every South Indian house and restaurants.
The Kandi podi is so yummy that one can eat the entire rice with it. Kandi podi is a favorite accompaniment that is always kept on the tables at every South Indian restaurants along with
Gongura pachadi, Avakaaya pachadi
(mango pickle) and
lemon pickle
.
Normally in
Andhra
it's a customary to eat rice first with the Kandi podi and ghee and later with
fresh pachadis
and pickles and thereafter the
sambar
and
rasam.
Kandi podi is an integral part of daily meals and usually comes to rescue on days when there is no vegetable cooked at home due to rush of time.
The thought of kandi podi that are mostly home ground spices increases the appetite coz the aroma that emanates during preparation of the spices powder is alluring. It's a recipe that needs time and patience to slowly dry
roast
each ingredient to bring out their true essence and flavor.
Kandi Podi is usually eaten, mixed with white rice and a drizzle of ghee. Kandi podi is prepared with a combination of the
Tur dal
and
channa dal,
dry roasted along with red chillis and other spices to a coarse powder. It's an absolute delight to the senses and almost addictive.
Dals or lentils is staple food in every Indian home and is rich in proteins, vitamins and nutrition to the human body. Dal is so important that both the rich and the common person who lives on the street enjoy it. It is what chicken soup is to the west – it is India's comfort food.
The South Indian delicacy,
sambhar
which is an accompaniment for
dosa
,
idli
or even rice is cooked with tur dal To prepare this delicious
Kandi podi (gun powder)
, Dry roast all the ingredients well till it spreads a nice aroma. Heat a heavy bottomed pan and add the dals and dry roast on slow or medium heat stirring constantly till they change their color (reddish in color).
Take care not to burn them. Remove from pan and keep aside. Add few cumin seeds to the pan and toss them on medium heat and remove and keep aside. Next add the dry red chilies, curry leaves and fry well. Remove and keep aside. Cool all these ingredients. Add hing (optional) to these ingredients.
Make sure that all the ingredients are nicely cooked over a slow flame. To ensure, just fold the red chilli and it should break in to pieces in no time. Mix all the ingredients and powdered them in a blender or mixie to a coarse powder.
Add salt and mix well. Remember that you can increase or decrease the red chilli according to your spice levels. Curry leaves, garlic and hing are optional but in South India hing is usually added to give a nice flavor and is also good for flatulence.
Do try making this gun powder and taste it with hot rice and ghee. The gun powder is really yummy and you would never let this recipe go. Click and check the video on making the Kandi podi at:
Ingredient Name
Unit
Quantity
toor dal

---

cup

---

1

---
Kandi Podi (GUN Powder) recipe thanks to USHA This is one of the most relished dish by any andhrite. This can be had with steaming plain rice with clarified butter, or can also be sprinkled on many cooked vegetables which will turn out into a spicy curry. To prepare this powder DRY ROAST ALL THESE INGREDIENTS WELL. 1. Add red chilli whole (depending up on your taste buds) 2. Add 1 cup of Dry toor dal 3. Add few cumin seeds, dry roast them till the toor dal is slight reddish in color 4. Add either 1/2 cup of channa dhal OR Add 1 cup of Dhalia 5. Add 3-4 cloves of Garlic 6. Add curry Leaves (optional) 7. Add Hing (optional) 8. Make sure that all the ingredients are nicely cooked in a very slow flame, to ensure, just fold the red chili and it should break in to pieces in no time. If all the ingredients are cooked good they can be powdered easily. 9. Switch off the flame and let it cool for 10 mins 10. Grind them in to a fine powder. Ingredients 10-15 Red chillies 1 cup toor dhal(dry) 1/2 cup channa dhal or 1 cup Dhalia (fried channa dhal) 3-4 garlic cloves optional ingredients Few curry leaves pinch of Hing